Staffing Industry Analysts (SIA) has named Genesis10 one of the Largest Staffing Firms in the U.S.

Largest staffing firms in U.S. highlights
SIA's 27th annual list highlights the companies that generated $100 million or more in US staffing revenue in 2021. Added together, the companies generated $134.9 billion in US staffing revenue or 76.2% of the total market. Genesis10 appears on the list year after year.
"On behalf of the leadership team, we are excited to be recognized by Staffing Industry Analysts," said Glenn Klein, President & CFO at Genesis10. "A tight labor market and a slowing economy are just two of the challenges the industry faces today. Our team is second to none in rising to the challenges, supporting our clients and consultants beyond their expectation. We are most grateful for their contribution to our continued success."
Earlier this summer, SIA named Tara Wyborny, Vice President, Talent Development, Dev10 at Genesis10, to its 2022 40 Under 40 list, while Business Insider recognized Genesis10 as a Best Company for Career Growth and CEO Harley Lippman as a Best CEO for Diversity and a Best CEO for Women.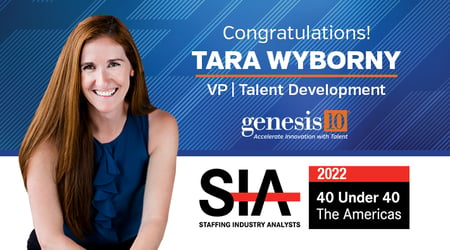 ---
Staffing Industry Analysts is a global advisor on staffing and workforce solutions. SIA was founded in 1989.