The Genesis10 Dev10 Software Developer Program trains bright young professionals in the technologies our clients need most. Upon completing the program, the Dev10 Consultants are ready to work for you.
In the video, you will learn how Dev10 is different from what our competitors offer, meet Tara Wyborny, program director, and hear from four of our Dev10 Consultants. Watch now.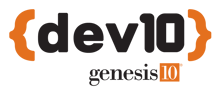 The skilled technical workers shortage slows innovation, product development and market expansion—affecting company revenues. CIOs recognize the shortage as an "existential threat" to their businesses.
The challenge: Finding individuals with the skills who can connect the dots to create business impact. In five years, demand for tech talent that delivers on new capabilities will significantly outstrip supply.
Tomorrow's Tech Talent Pool Today
To meet growing demand for software developers, Genesis10 created Dev10, an intensive program focused on training a select group of college graduates.
Dev10 provides our clients with entry-level backend Java Developers trained in Java, REST and Spring.


TRAINED IN:

Why Choose Dev10?
Gain access to a newly developed talent pool
Candidate selection process is rigorous and highly competitive
Classroom training delivered by industry veterans
The candidates master the skills you need now
Dev10 Consultants emerge work ready and receive ongoing support from Genesis10

Dev10 Program
SELECTION
The Dev10 recruiting process evaluates candidates with diverse STEM backgrounds to identify top talent that demonstrates the strong technical aptitude and dedication needed to succeed as a Software Developer. We select candidates based on:
| | |
| --- | --- |
| | Phone Interview |
| | Aptitude Testing |
| | In-Person Interview with the Dev10 Team |
| | Web Development Course & Project |
| | Final Candidates Selected |
In the most recent Dev10 class, only 2% of the candidates who applied were selected for the training program, highlighting the rigor in the candidate evaluation process and how high the bar is set.
INTENSIVE CLASSROOM TRAINING
An immersive coding boot camp, Dev10 is competency based, with candidates assessed weekly for mastery of each subject. They must prove their ability to code, not just understand theory. All classes taught in a live classroom setting by trainers with industry experience.
PERFORMANCE MANAGEMENT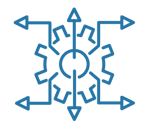 Genesis10 is responsible for our consultants' performance through a cadence established with the client. We provide our clients with dedicated delivery directors who are industry veterans with more than 10 years of experience at mentoring new consultants and trained in workforce planning.
Our dedicated Delivery Directors provide 360 degree Performance Management consisting of:
Weekly one-on-one meetings,
Bi-weekly checkpoints with client managers and
Career development planning.