Genesis10 – in connection with State Information Technology teams – is helping aspiring technology talent in communities across the U.S. train for IT careers at the State.

Normally a technology career requires a college degree in Computer Science or Management Information Systems. With UPlift, you learn on-the-job without additional financial investment in education.
Do any of the following apply to you or your friends?
Enjoy modifying or repairing electronics?

Ever created your own website or app?

Are you the person your friends or family go to when their phones or computers are not working right?

Can you read or speak a foreign language?

Have you ever played an instrument?

Like math?
How UPlift Works
Participate in customized online and classroom training

Receive on-going coaching and mentoring

Develop IT skills through on-the-job training with the State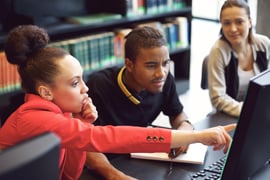 Make a Difference

The IT programs and services stretch across the executive branch of state government – from social services to education, to law enforcement and more. Start a career in the heart of how the government works for the State.