Providing staffing services is what we do!
We have remained focused on providing business and technology professionals for over two decades across multiple industries and spanning the U.S. To succeed in today's environment and capitalize on the digital platform, organizations need to have the right caliber of talent with the right competencies.
This is where Genesis10 can help.
We have a candidate database of millions of top performers nationwide, enabling us to provide exactly the right people for a wide spectrum of roles. We will work with you to gain a deep understanding of your specific role requirements, such as technical skills, communication skills, cultural fit, and other characteristics based on what it takes to be effective in your organization.
We select the best-fit candidates from our large pool of talent and present you with a shortlist to consider. Over time, you will be able to streamline your interviewing and hiring processes knowing that candidates from Genesis10 are thoroughly vetted well-qualified business and technology professionals who align with your needs.
Our recruiting model adapts rapidly to an ever-changing and highly competitive talent landscape.
Our process begins before we receive the first client requirement and goes beyond traditional staffing practices. Think of our team working behind the scenes to support your team.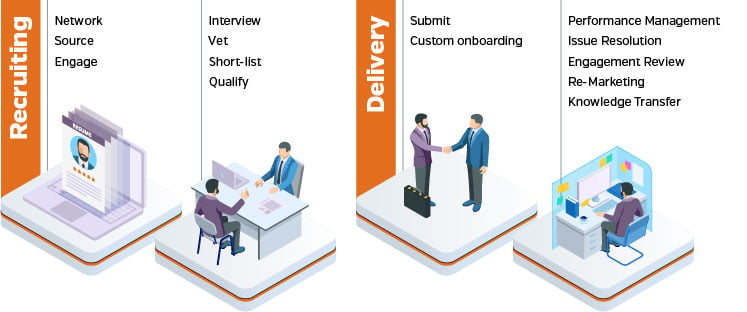 We align with our clients' resource strategies and operations. Whether we're providing candidates on-demand through a managed services provider (MSP), vendor management system (VMS), or working proactively with hiring managers and HR professionals, Genesis10 has the recruiting expertise, technology, and network to effectively recruit and deliver qualified, referenced consultants.