Delivering the best outcomes as your Partner of Choice:

| | |
| --- | --- |
| | Embraces the process |
| | Understands high-volume recruiting |
| | Excels at rigorous compliance and a structured environment |
| | Provides a flexible, scalable model with national reach |
| | Exceeds your performance metrics |
Vendor consolidation is a top priority for most large companies. Companies are under pressure to control costs, while implementing emerging technologies and mitigating ever-changing security risks. To simplify operations, increase control over spend and shift the vendor management responsibility, companies are turning to Managed Service Providers (MSP) to manage contingent workforce spend and the vendor relationships.
Capitalizing on the MSP model is a go-to for the Fortune 1000. In fact, the MSP model is one of the few contingent workforce management models that has had staying power for the past 15 to 20 years. Why? VALUE and Delivering BETTER OUTCOMES.

Companies use an MSP or VMS to:
| | |
| --- | --- |
| | Improve compliance, quality and performance through greater visibility from performance metrics |
| | Reduce cost and increase control through consolidating spend with fewer partners, when appropriate |
| | Simplify operations by leveraging a vendor managed solution and new technology |
| | Scale to new markets |
| | Better workforce planning through collaborative resource management and capacity planning |
Why MSPs Partner with Genesis10
Since our founding in 1999, companies have consistently looked to Genesis10 as their staffing and talent partner to creatively shore up resource gaps, design new talent solutions and address workforce challenges. Today, more than 75% of Genesis10's top 25 clients use an MSP and/or VMS, representing approximately 80% of total revenue. One reason why MSPs choose Genesis10 is because we embrace their processes and excel at operating in their highly rigorous and structured environment.
Our Approach
We understand:

Genesis10 excels at providing our individual consultants with a work environment in which they feel like members of the Genesis10 family—even in very large programs through a comprehensive consultant care program.Understanding and internalizing the profiles of our clients and MSPs is what we do—very well. In the markets in which we operate, we have long-lasting relationships with consultants. We also use such recruiter-enablement tools as an ATS, job boards, social media platforms such as LinkedIn or Reddit and networking forums and user groups like Meetups to build a pipeline for active and passive candidates. We adjust our approach based on competency. Genesis10 thoroughly vets each of our candidates through our recruiting process: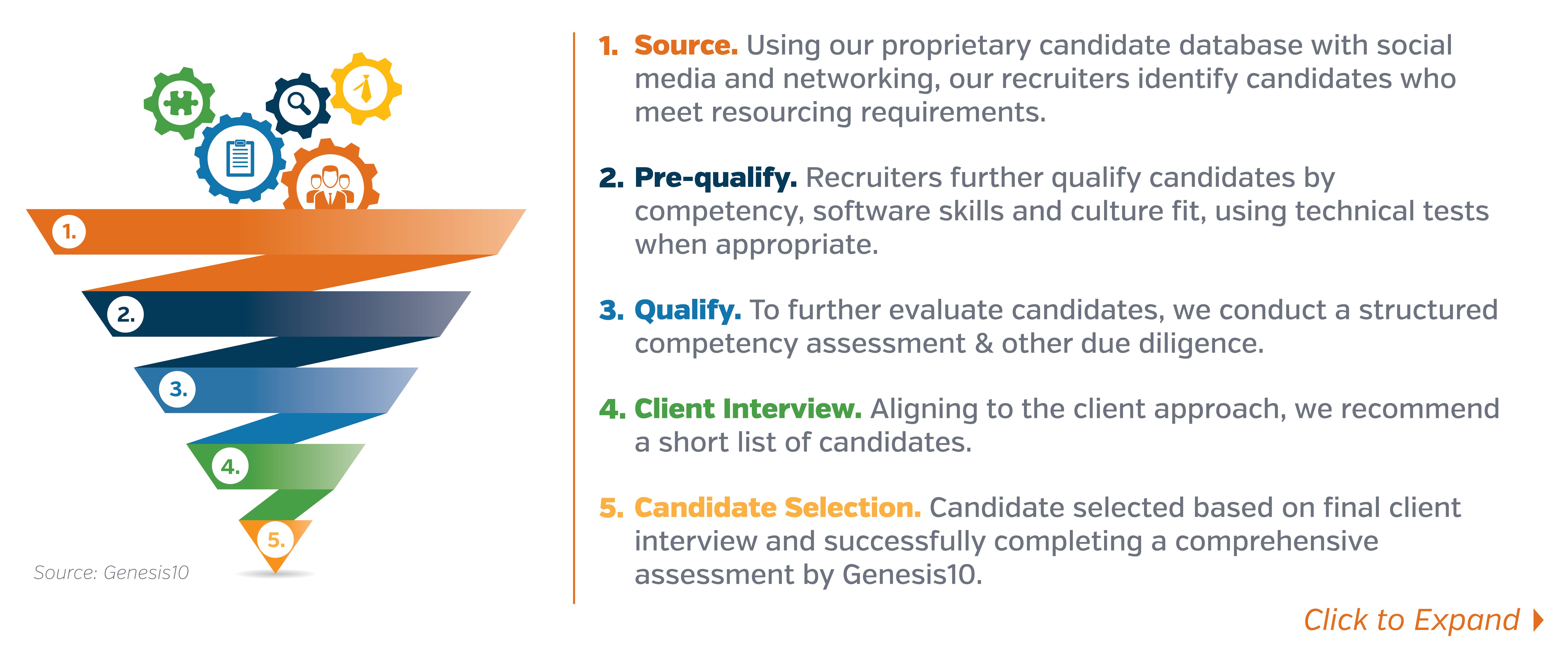 Once a candidate is selected, the consultant will complete an onboarding process which includes not only the HR-related paperwork, background checks and the like, but also will complete client-specific and Genesis10 training on global data security and respectful workplace.
Metrics Matter –
Proactive Performance Management
Maintaining a strong understanding of program performance and participation is incredibly important to the overall success for each vendor as well as the MSP program as a whole. Managing MSP performance is our job too. We take it seriously and manage performance and participation as way of doing business.
To that end, Genesis10 maintains an internal scorecard to track our performance and participation. Our internal scorecard will often mimic key metrics that are also important to the MSP program such as: Activity, Quality, Speed and Cost. Each key metric in turn is broken down into supporting metrics or key performance indicators to track at a more granular level. For example, Quality will include successful finishes, quits, terminations to gain a better understanding on starts and attrition as a whole. The account team meets weekly to review participation and proactively make adjustments to insure performance is in-line with our understanding of the MSP program's expectations.
Compliance
A complex aspect of an MSP partnership today is compliance - HR, Financial, Regulatory. Genesis10 has a proven track record at successfully supporting monthly and quarterly audits based on the rigor required to participate in an MSP program.
We have a dedicated compliance team led by Director of Compliance Caron Katz, a founding member of Genesis10. With more than 25 years of industry experience, Caron's team manages both internal and external auditing as well as the development of compliance policies and procedures. Core to how we manage individual client and MSP compliance requirements is through a technology-enabled, custom developed compliance database that tracks and manages each individual contractor's adherence to client specific compliance requirements. Caron's team also maintains a pulse on immigration policies and interfaces with the head of HR at Genesis10 and our labor lawyers to stay apprised of ever-changing immigration laws, tax codes, state labor laws and so on.
When issues arise and they will, Genesis10 is swift in taking action on behalf of the MSP and end client. We have the experience and the resources from HR, Compliance and Labor Lawyers to aid us in outlining a course correction plan and implementing the plan expeditiously to protect and manage risk.
To prevent against misrepresentation, our recruiters conduct interviews with candidates via Skype or Facetime to verify their identity.