Helping States Bridge the IT Talent Gap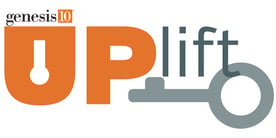 UPlift by Genesis10 is a customized talent solution that remedies immediate and long-term technology resource gaps in State IT departments nationwide and complies with State vendor procurement processes.
Genesis10 – a leader in innovative talent solutions since 1999 – created UPlift to Unlock the Potential of promising, high-aptitude, under-represented talent in communities across the U.S. We recruit, select and hire individuals as UPlift consultants, then train them for entry- and mid-level State technology roles.
Qualified and trained UPlift consultants are placed in State IT roles and continue to receive coaching, mentoring and ongoing training from Genesis10 until hired or transitioned to another project. UPlift consultants are eligible for hire after a successful engagement period defined by each State's hiring guidelines. Sample roles include: Programmer, Network Administrator, Help Desk Specialist, Network Support, Systems Administrator, Business Analyst and Quality Assurance Professional.
How UPlift Works
Program Assessment -

First we help the State define entry-and mid-level roles. Then we tailor candidate profiles and training requirements.
Effective & Efficient Recruiting - Genesis10 sources, recruits, interviews and selects UPlift consultants that align with each State's IT needs.

Training -

All UPlift consultants complete in person training tailored to their role. We also provide ongoing training as needed throughout the engagement.
Performance Management - Genesis10 provides coaching, mentoring and performance management while our UPlift consultant is on assignment.
Right-to-Hire - The State can hire UPlift consultants as full-time employees after a successful engagement period defined by each State's hiring guidelines. Genesis10 supports each State's HR and/or hiring managers with the UPlift consultant hiring process.
Common Challenges Facing State IT
Competing with private sector for qualified technology talent
Balancing workloads of experienced and entry-/mid- level employees
Building out and retaining new capabilities cost-effectively
Infusing new energy and ideas into the IT workplace
Learn More! Fill out the form below to contact Steve Wistrcill.