Once again, Genesis10 has earned recognition for providing employees with the best training and professional development opportunities.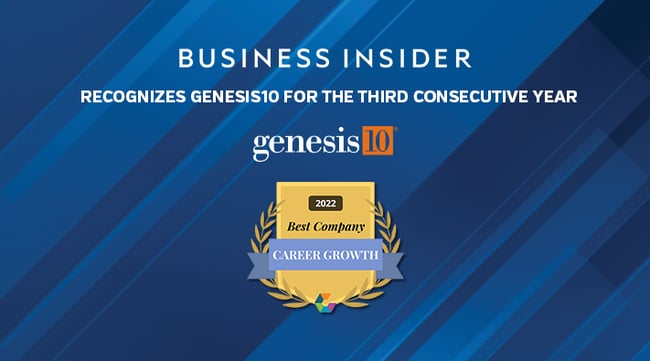 As Business Insider reports, Genesis10 has received a Best Company for Career Growth Award.
Also recognized are: IBM, Chewy, ADP, Nucor Corporation, Sunrun, GoDaddy, Amazon Consumer and Samsung Semiconductor among other companies. It is the third consecutive year that Genesis10 receives this recognition.

"That the award comes from our employees and that we received it in three consecutive years is a testament to the culture we've created and continue to nurture. We provide our employees with training and other opportunities, but we've also got a great group of people who support and encourage each other in their careers—and are quick to celebrate each success."
Ranking the award is based on employee feedback to questions about the company's professional development opportunities on a survey by Comparably. Genesis10 employees give their company an A+, a grade that places it in the top 5% nationwide.
Here is a sampling of remarks made by employees on professional development at Genesis10:
"I've had opportunities to take on new responsibilities and challenges. I am respected and valued and my input is appreciated. I am given independence to do my job and make decisions for which I am held accountable."
"I've been given all the tools I need to make a successful career. Leadership has listened to my career goals and allowed me to transition to a space that I am most passionate about."
"Our leadership team is extremely transparent about the state of the company, exactly what needs to be done to improve, and celebrates success."
Recently, Genesis10 CEO Harley Lippman was recently recognized with both a Best CEO for Diversity and a Best CEO for Women award. Staffing Industry Analysts consistently recognizes Genesis10 as a Top IT Staffing Firm.

Comparably is a leading workplace culture and compensation site with a mission to make workplaces more transparent and rewarding. Employees can access the platform's salary comparison tool, rate their companies and CEOs, and see what workplaces are really like through the lens of comprehensive and structured data based on gender, ethnicity, age, experience, department, location, education, and company size.
Genesis10 is a professional technology services firm providing Staffing, Direct Hire, Digital Consulting, Talent Creation and Onshore Managed Services. Headquartered in New York.