Staffing Industry Analysts has named Tara Wyborny, Vice President, Talent Development Dev10 at Genesis10, to its 2022 40 Under 40 list.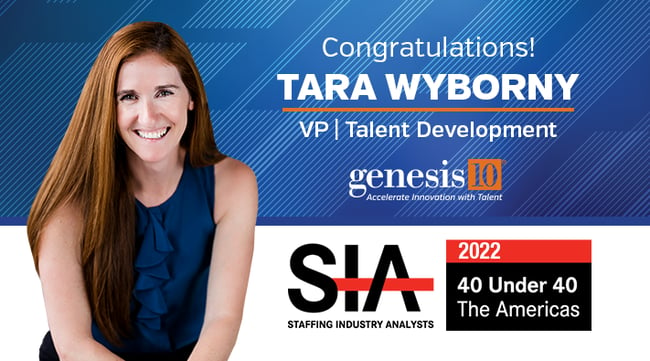 The annual list recognizes staffing industry professionals who have helped shape a new world of work.
"Over the course of just four years Tara helped Dev10 go from an idea tossed around in my office to a company that has helped nearly one thousand people break into the high-demand field of IT," said Angelia Brekke, President, Dev10 and Managing Director at Genesis10. "On behalf of everyone with Dev10, I congratulate her on this award and look forward with great anticipation to her future accomplishments."
Wyborny co-created the program Dev10 in 2018 to expand the pool of

programming and data-analysis talent in Minnesota. In the four years since, Dev10 has expanded to New York; Milwaukee; Cleveland; Washington, D.C.; Dallas; Chicago; and Austin, Texas. By the end of this year, the number of cities that will host the three-month program will have doubled.
Dev10, by Genesis10, is a talent creation program motivated by a belief in the unlimited potential of people. Designed in direct response to the talent shortage, Dev10 creates new tech talent.
As VP of Talent Development, Tara is responsible for the selection, learning and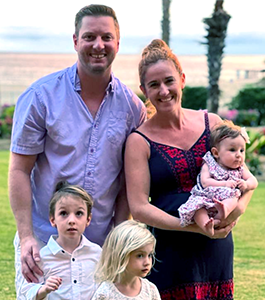 development of all Dev10 Associates. Since many Dev10 Associates don't have traditional computer or information science degrees, Tara's insight and oversight in ensuring each has acquired the skills necessary to be successful in a tech career is critical.
"SIA's 2022 40 Under 40 share extraordinary differentiators from those of other industries," said Subadhra Sriram, Editor and Publisher at SIA. "They helped transition the industry from its pre-pandemic model of work to one that is more candidate-friendly and flexible. It takes both resilience and a vision to do that. In addition, this group loves working with people and placing them in jobs. These rising stars have seized the opportunity to build back better."
As the global advisor on staffing and workforce solutions, SIA publishes its annual list to identify and honor staffing industry leaders of today and tomorrow. The 2022 class has indeed prioritized "building back better" with a reinvigorated focus on candidate care — a trend and an imperative for the post-pandemic staffing industry.
Dev10 has recently received a Tekne Award in the Tech Talent Solution Provider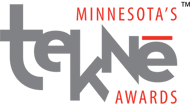 category from Minnesota Technology Association and finished as a finalist for the Blue Diamond Award for Tech Talent Innovation by the Charlotte Area Technology Collaborative.
Staffing Industry Analysts year after year names Genesis10 to its list of top U.S. Staffing Firms. Recently, Genesis10 CEO Harley Lippman was recognized as a Best CEO for Women and a Best CEO for Diversity by Business Insider.
Staffing Industry Analysts is a global advisor on staffing and workforce solutions. SIA was founded in 1989.
Genesis10 is a professional technology services firm providing Staffing, Direct Hire, Digital Consulting, Talent Creation and Onshore Managed Services. Headquartered in New York.