Genesis10's Dev10 Software Developer Training Program has won a 2020 Tekne Award in the Tech Talent Solution Provider category.
Presented by the Minnesota Technology Association, the Tekne Awards recognize the best and brightest of Minnesota's diverse science and tech-based economy. The awards program began in 1998.
"The Tekne Awards honor the innovators and tech leaders powering Minnesota's growing science and technology economy," said Jeff Tollefson, President, and CEO of the Minnesota Technology Association, at the awards ceremony held virtually for the first time. "This year we were especially excited to honor organizations that showed swift and innovative responses to the COVID-19 crisis."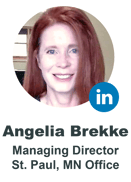 Honored to receive the award, Angelia Brekke, Managing Director of the Genesis10 office in St. Paul, thanked MnTech for selecting Dev10, and applauded our fellow finalist, New Vision Foundation, "for their critical work in inspiring and teaching disadvantaged middle and high school students to code."
Brekke also thanked those who made it all possible: "Dev10's co-creator, Tara Wyborny, for her infinite passion and commitment to the program, our Dev10 Associates who placed their faith in our ability to launch their IT careers with great local companies, and our clients for collaborating with and trusting in our vision for a new solution to address the tech talent gap. Without you, the program would not have succeeded."

Dev10 is Genesis10's Talent Creation Program aimed at building junior software developer talent in highly sought-after skills such as full-stack java that otherwise does not exist. Recruiting locally, training locally and deploying locally, Dev10 identifies local, high-aptitude college graduates and immerses them in a three-month technology training program. Hundreds of people have successfully completed the training and are working as Genesis10 consultants or as employees of our clients in industries such as banking and financial services, manufacturing, healthcare and retail.
Genesis10 is a Top IT Consulting Firm in the Twin Cities according to the Minneapolis/St. Paul Business Journal, a Top Workplace in Minnesota and has previously won a Tekne Award for our G10 Associates Program and Veterans Program.
Genesis10 is a professional technology services firm providing Staffing, Direct Hire, Digital Consulting, Talent Creation and Onshore Managed Services.