The Minnesota High Tech Association (MHTA) recognized Genesis10 for innovation and leadership in the Workforce Development category at the 2014 Tekne Awards ceremony hosted last night. The company's G10 Associates Program (college hire) and Veterans Program proactively prepare recent college graduates and post-9/11 veterans for success in business and IT roles. Through a combination of careful selection, training and on-the-job mentoring, Genesis10 enables entry-level college and veteran talent to build corporate skills that prepare them to contribute almost immediately while providing clients a risk-free, demonstrated approach to engaging next-generation talent.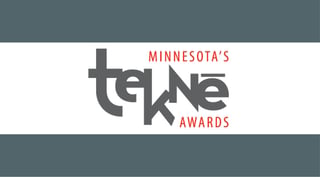 "Genesis10 is dedicated to training and mentoring next generation veteran and college graduate talent for successful transition into the corporate environment," stated Angie Brekke, Minnesota Managing Director. "We are incredibly honored to receive this award, which we share with all of the G10 Associates and U.S. military veterans we've placed and our clients leveraging these programs."
Tekne Awards are presented annually to those considered Minnesota's best and brightest technology users and developers in innovation, development, education, commercialization and management.
About Minnesota High Tech Association (MHTA)
MHTA is an innovation and technology association united in fueling Minnesota's prosperity. We help bring together the people of Minnesota's technology ecosystem and lead the charge in directing technology issues to Minnesota's state capitol. MHTA is the only membership organization that represents Minnesota's entire technology-based economy. MHTA members include organizations of every size − involved in virtually every aspect of technology creation, production, application and education in Minnesota. Find out more online at http://www.mhta.org or follow MHTA on Twitter at http://twitter.com/MHTA.