Genesis10 is one of the Top IT Consulting Firms in the Twin Cities, according to a list recently published by the Minneapolis/St. Paul Business Journal. Inclusion on the list is based on hours billed in 2019.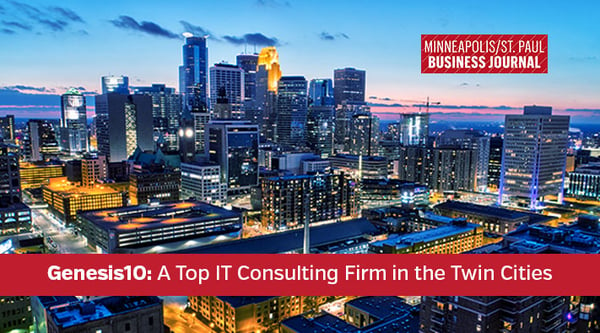 Genesis10's Minnesota office is located at 332 Minnesota St., Suite W2500, St. Paul, MN 55101. Angie Brekke, Managing Director, manages the local team there.
"This recognition speaks to the expert work Genesis10 consultants provide and the resolute commitment of our entire team to our clients' initiatives," said Brekke. "We appreciate the flexibility shown by our clients and consultants as we partner to find solutions to the challenges posed by the pandemic. The demand for tech talent continues to grow. We exist to support local companies in solving this challenge through consulting as well as talent creation programs, such as Dev10."
Recently, Genesis10 received national recognition in USA Today as one of the Best Companies in the U.S. for Professional Development.

Genesis10 is a professional technology services firm that provides Staffing, Direct Hire, Talent Creation, Digital Consulting and Outsourced Managed Services, onsite or onshore, and has served the Minnesota market since 2004.