The Austin Business Journal has named Genesis10 a Top Austin-Area Tech Recruitment Firm and a Top Temp Staffing Firm in the Austin Area.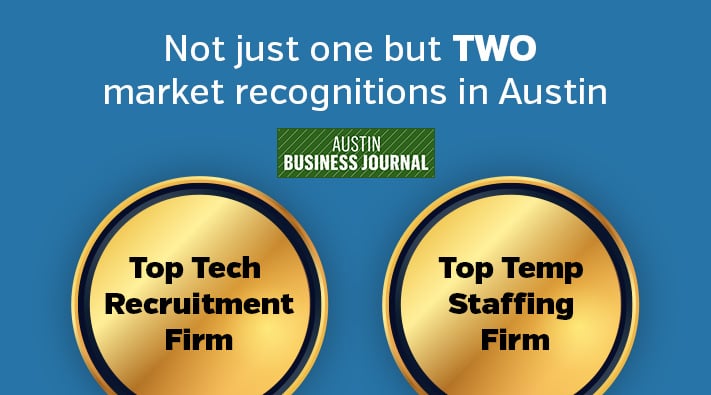 It is the third consecutive year that Genesis10 has made the Austin top tech recruitment firms list. Genesis10's Austin office opened in May 2017.

The Austin team is led by Colleen McIntyre, Managing Director—Central Texas, who has more than 25 years of leadership and recruiting experience and is one of the original 10 founders of Genesis10.
"We are excited that the Austin Business Journal has named Genesis10 a Top 10 Technology Recruiting Firm for the third consecutive year," McIntyre said. "It's especially meaningful this year as the entire Genesis10 team pulls together to solve our clients' workforce challenges during this unprecedented time. For example, our Leaders Helping Leaders virtual luncheon series which focuses on the future of work is particularly well received by the local IT community, and we will continue to provide this value added service as we make our way back to the office post-pandemic."
The list of tech recruiters highlights firms that work with tech companies and IT departments to fill tech-specific positions, such as software engineers, database administrators and developers. It is ranked by permanent and contract tech placements made during 2019.
The temp staffing firms list includes a range of staffing specialties from traditional clerical and administrative help, to skilled trades and professionals in accounting, health care, security and technology. It is ranked hours billed in 2019
Genesis10 has 19 offices and seven delivery centers across the U.S. The Austin office is located at 9442 North Capital of Texas Hwy., Plaza One, Ste 500, Austin, TX 78759. The phone number is 512-470-8859.
Genesis10 is a professional technology services firm that provides staffing, workforce optimization and domestic outsourcing solutions onsite, onshore or in a hybrid delivery model.