Angelia Brekke, President, Dev10, and Managing Director at Genesis10, is a Notable Woman in Technology, as reported in Twin Cities Business (TCB), Minnesota's leading resource for business news, insight, and inspiration.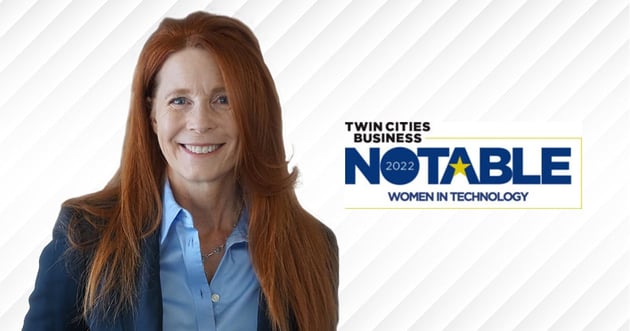 TCB editors selected Brekke for this recognition for "driving innovation at Genesis10 while mentoring the next generation of leaders." Other women on the list represent such companies as Accenture, Comcast, Target, RBC Wealth Management and Cargill.
"On behalf of Genesis10 CEO Harley Lippman, the leadership team and the entire Genesis10 family, I'd like to congratulate Angie Brekke on Twin Cities Business naming her a Notable Women in Technology for 2022," said Glenn Klein, President & CFO at Genesis10.
"Since co-creating and launching Dev10 in 2018, Angie and her team have helped to launch the tech careers of more than 700 software developers and data professionals and more than 40 of our clients nationwide solve for the tech talent shortage," Klein said. "That's while continuing to lead a team in Minnesota that's equally successful. Thank you, Angie, for all you do for Genesis10 and the tech community."

Dev10 cultivates top-performing U.S. tech talent to drive competitive advantage. Through highly selective recruitment and intensive training, Dev10 reskills high-caliber, local professionals to become tomorrow's top tech talent. Dev10 Consultants work in Software Developer and Data Professional roles with clients in banking and financial services, manufacturing, healthcare, retail and other industries; they receive mentoring for two years. Since launching in the Twin Cities four years ago, Dev10 has expanded to New York; Milwaukee; Cleveland; Washington, D.C.; Dallas; Chicago; and Austin, and will double in size in 2022.

Dev10 has received the Tekne award for Talent Creation by the Minnesota Technology Association (MNTech) and was one of two finalists for the Blue Diamond Award for Tech Talent Innovation by the Charlotte Area Technology Collaborative.
Under Brekke's leadership, Genesis10's Minnesota office consistently places in the top five firms on the Minneapolis-St. Paul Business Journal Top IT Consulting Firms list. Genesis10's Minnesota office also is a Star Tribune Top Workplace in Minnesota.
Joining Genesis10 in 2011, Brekke also appears on Minnesota Monthly's list of the 500 Most Powerful Business Leaders in Minnesota, and she is frequently quoted in the Minneapolis-St. Paul Business Journal. Brekke is a scheduled speaker at MNTech's Tech Connect conference this spring.