Angelia Brekke, Managing Director at Genesis10, has been named one of the 500 most powerful business leaders in Minnesota. It is the second consecutive year that Angie has made the prestigious list compiled by the editors at Greenspring Media, publisher of Minnesota Monthly magazine in Minneapolis.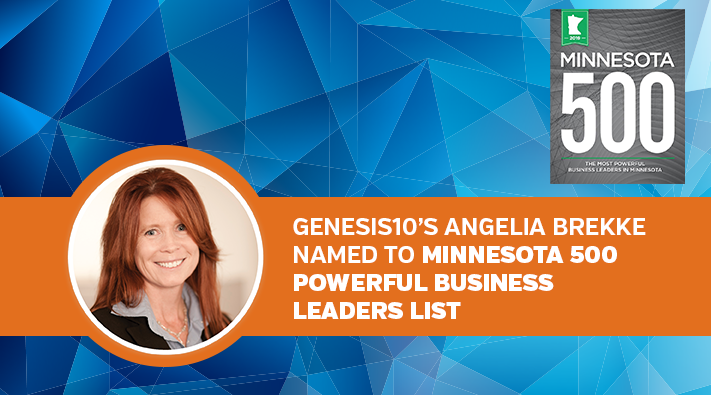 From an extensive database of leaders across industries throughout the state, the editors select the Minnesota 500 based on the impact each executive has on their industry, the success and impact the company has under their leadership, special awards or accolades in the executives' professional and personal lives, participation in community and philanthropic endeavors, and positions on other boards, among other criteria.
"The 500 people on the list serve as a testament to Minnesota's influence in the Midwest, the U.S. and the world," said Lianna Matt McLernon, Content Director, Minnesota 500. "The individuals were chosen because of how their leadership has made ripple effects on their company, their industry and the larger community."
"Genesis10 congratulates Angie for receiving this honor," said Glenn Klein, President & CFO of Genesis10. "Her hard work, dedication and leadership have a positive and lasting impact on our company, the industry and the community. We are grateful to have her on our team. Angie is truly deserving of this recognition."
Angie is responsible for leading the Genesis10 Twin Cities office and for providing strategic direction nationally for Genesis10's Talent Creation Program. She has strong ties within the Twin Cities business community, has served as a board member of the Minnesota High Tech Association and has received recognition by the Department of Defense for her executive support of the company's veterans program. Angie also contributes to the MAKE IT.MSP blog.
Earlier this year, Genesis10's Minnesota office, under Angie's leadership, was recognized as a Top Workplace in Minnesota by the Star Tribune and the Minneapolis/St. Paul Business Journal named Genesis10 to its Twin Cities Top Technology Consulting Firms list.
Genesis10 is a top IT staffing firm, according to Staffing Industry Analysts, and has received awards for Best Work/Life Balance, Best Leadership Team, Best Outlook and Best CEO from Comparably.
Related: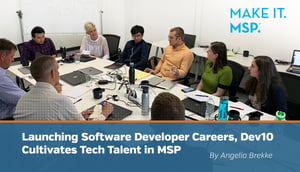 Launching Software Developer Careers, Dev10 Cultivates Tech Talent in MSP "Long-term, closing the workforce gap will take strong collaboration between corporate America and our education system," says Angelia Brekke, Genesis10 Managing Director. Read More