Genesis10 has been recognized as one of 25 major U.S. companies that has the Best Work-Life Balance by Comparably. The workplace culture and compensation site presents the award annually to showcase companies that provide fair pay, perks, benefits and work environment, as determined by employees. Starbucks, Intuit, Target, Costco, Kohl's, ADP, LogMeIn and Ultimate Software are among the companies also recognized.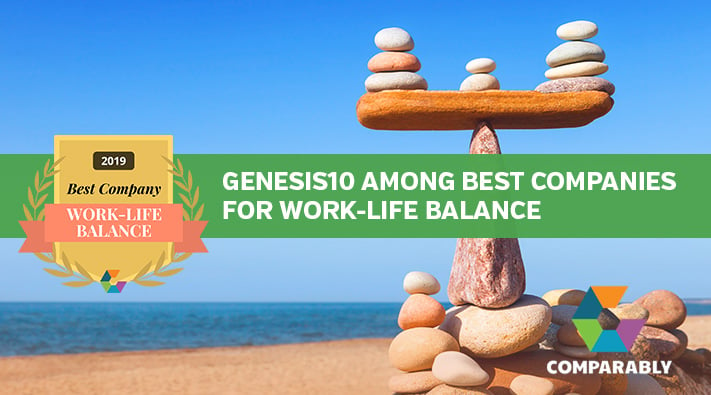 The 25 Major US Companies with the Best Work-Life Balance, at Business Insider.
"Receiving this award is especially meaningful given how demanding each day is, as we strive to exceed our client expectations. We work hard at Genesis10 to achieve a work-life balance for our employees and consultants," said Harley Lippman, Founder and CEO of Genesis10. "Our employees and consultants make valuable contributions every day for our clients and for Genesis10, so the sentiment of work-life balance across our workforce tells me that we're creating flexible and rewarding opportunities for our employees and consultants. We are committed to being an employer of choice."
"It is no surprise why Genesis10 is one of the top-rated companies for Best for Work-Life Balance," said Comparably CEO Jason Nazar. "Employees praise the company's forward-thinking stance on the topic, allowing the flexibility needed in other areas of their lives."
Recently, Genesis10 was named a top U.S. Staffing Firm by Staffing Industry Analysts, and a Top Workplace in Minnesota by the Star Tribune. Harley Lippman was named a Best CEO by Comparably.
In June, Genesis10 received a Best Leadership Team Award from Comparably. In the past year, CEO Harley Lippman received a Best CEO Award and Genesis10 received a Best Outlook Award. Both are from Comparably.
Comparably is a leading workplace culture and compensation site with a mission to make workplaces more transparent and reward. Employees can access the platform's salary comparison tool, rate their companies and CEOs and see what workplaces are really like through the lens of comprehensive and structured data based on gender, ethnicity, age, experience, department, location, education and company size.
Headquartered in New York, Genesis10 is a professional technology services firm providing staffing, workforce optimization and domestic outsourcing solutions. The company was founded in 1999 by CEO Harley Lippman and is dedicated to providing talent and talent services in support of its clients' growth and business-as-usual initiatives in a cost-effective onsite or onshore model. Genesis10 has more than 150 clients ranging from Fortune 100 to mid-cap companies.
Also read:
Genesis10 a 2019 Top Workplace in Minnesota, Star Tribune
Genesis10 a Top U.S. Staffing Firm
Genesis10 CEO Harley Lippman Receives Best CEO Award from Comparably.