The Kansas City Business Journal has named Genesis10 to its Kansas City Staffing Services list for 2019.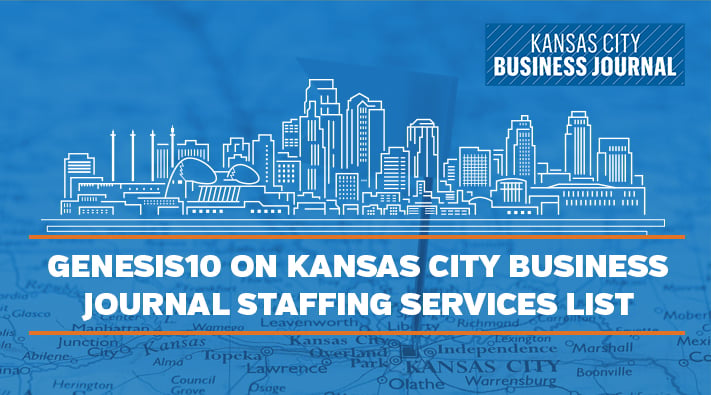 Genesis10's Kansas City Metro office is located at 16025 W. 113th St., Lenexa, KS 66219. Guy Arnone, Genesis10 Operations Executive for the Kansas City office, manages the local team. Genesis10 also has a Delivery Center in Kansas City Metro.
"We are excited to be named a top Staffing Services Firm in Kansas City Metro," said Arnone. "It's a testament to the hard work of the entire Genesis10 team. We provide project support services in a staffing model to take cost out, deliver solid value and to set us apart. Understanding our clients' challenges in such a tight talent market and providing them with the staffing services they need to solve their workforce challenges are key to our continued success."
Recently, Staffing Industry Analysts named Genesis10 a Top Staffing Firm in the U.S. and was recognized by Comparably as a Best Company for Work/Life Balance. Genesis10's office in Kansas City Metro has also been named a Top IS Outsourcing Firm by the Kansas City Business Journal, ranking #2 for seven consecutive years, 2012-2018. The publication discontinued the list in 2019.
Genesis10 is a professional technology services firm that provides staffing, workforce optimization and domestic outsourcing solutions onsite, onshore or in a hybrid delivery model.
Related: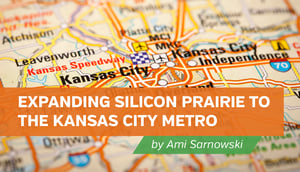 Expanding Silicon Prairie to the Kansas City MetroIn April, MarketWatch named Kansas City to its list of cities emerging as new tech hot spots. Routinely making headlines for its growing tech economy...Read More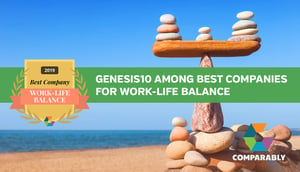 Genesis10 Among Best Companies for Work-Life BalanceGenesis10 has been recognized as one of 25 major U.S. companies that has the Best Work-Life Balance by Comparably...Read More.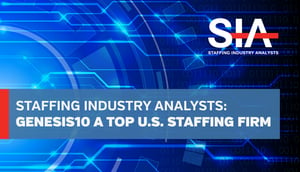 Staffing Industry Analysts: Genesis10 a Top U.S. Staffing FirmStaffing Industry Analysts has named Genesis10 one of the Largest Staffing Firms in the U.S. Ranked by revenue, SIA recognizes firms that generated at least $100 million in U.S. staffing...Read More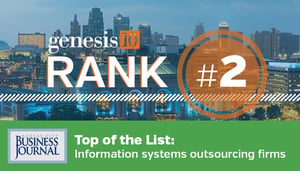 Genesis10 on Kansas City Business Journal Top Outsourcing IS Firms List.Genesis10's Kansas City Metro office was named to the Kansas City Business Journal's Top Outsourcing Information Systems Firms list for 2018. This is the seventh consecutive year Genesis10 has ranked second or higher on the list....Read More