Staffing Industry Analysts has named Genesis10 as one of the Largest Staffing Firms in the U.S. Ranked by revenue, SIA recognizes firms that generated at least $100 million in U.S. staffing revenue in 2018. This is SIA's 24th annual report on the largest U.S. staffing firms and features 157 companies, marking an increase over the 143 firms included last year.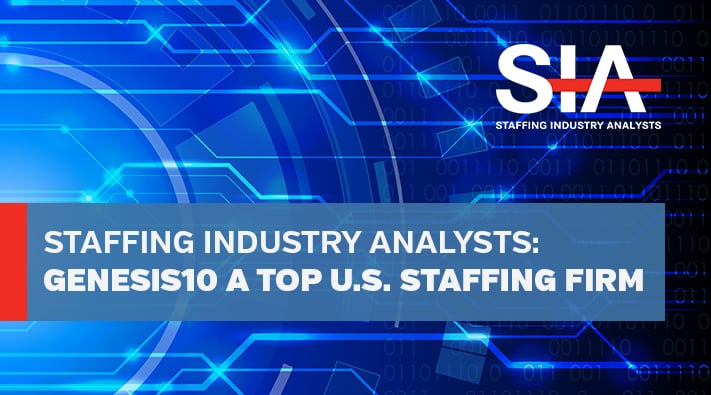 The 2019 report defines "staffing revenue" as revenue generated from the provision of temporary workers to business clients, as well as from "place and search" services (direct hire/ permanent placement and retained search). It also includes revenue from "temp-to-hire" conversions. Industrial and IT are the largest temporary staffing skill segments by revenue for 51 and 47 companies respectively in this year's report.
The 157 companies in this year's report generated a combined revenue of $90.2 billion and had an estimated 61% of the market.
"As the US economy enters into a record 11th year of expansion, our report highlights the breadth and depth of staffing companies currently operating in the U.S. marketplace," said Timothy Landhuis, Director of Research, North America at SIA. "Capitalizing on the need for staffing services across all sectors of the economy, we continue to see a multitude of industrial and professional staffing firms sustain impressive revenue levels and achieve further growth."
In February, SIA named Genesis10 CEO Harley Lippman to the North American 100 Staffing Leaders list, and in November 2018, Ami Sarnowski, Chief Innovation Officer at Genesis10, to the Global Power 150—Women in Staffing List.

Founded in 1989, SIA is the global advisor on staffing and workforce solutions. A division of the international business media company, Crain Communications Inc., SIA is headquartered in Mountain View, California, with offices in London, England.
Genesis10 is a professional technology services firm that provides staffing, workforce optimization and domestic outsourcing solutions onsite, onshore or in a hybrid delivery model.
Also read: Genesis10's Harley Lippman Addresses Historic Low IT Unemployment in CIO Journal.
---