Staffing Industry Analysts (SIA) has named Ami Sarnowski, Chief Innovation Officer at Genesis10, to its Global Power 150—Women in Staffing list for 2018. SIA is the global advisor on staffing and workforce solutions.
"As Staffing Industry Analysts recognizes its Global Power 150—Women in Staffing, I would like to congratulate Ami Sarnowski for her contributions to the continued success and growth of Genesis10 to earn this industry recognition," said Glenn Klein, President and Chief Financial Officer at Genesis10. "Her hard work, dedication and leadership is an inspiration to the entire Genesis10 team."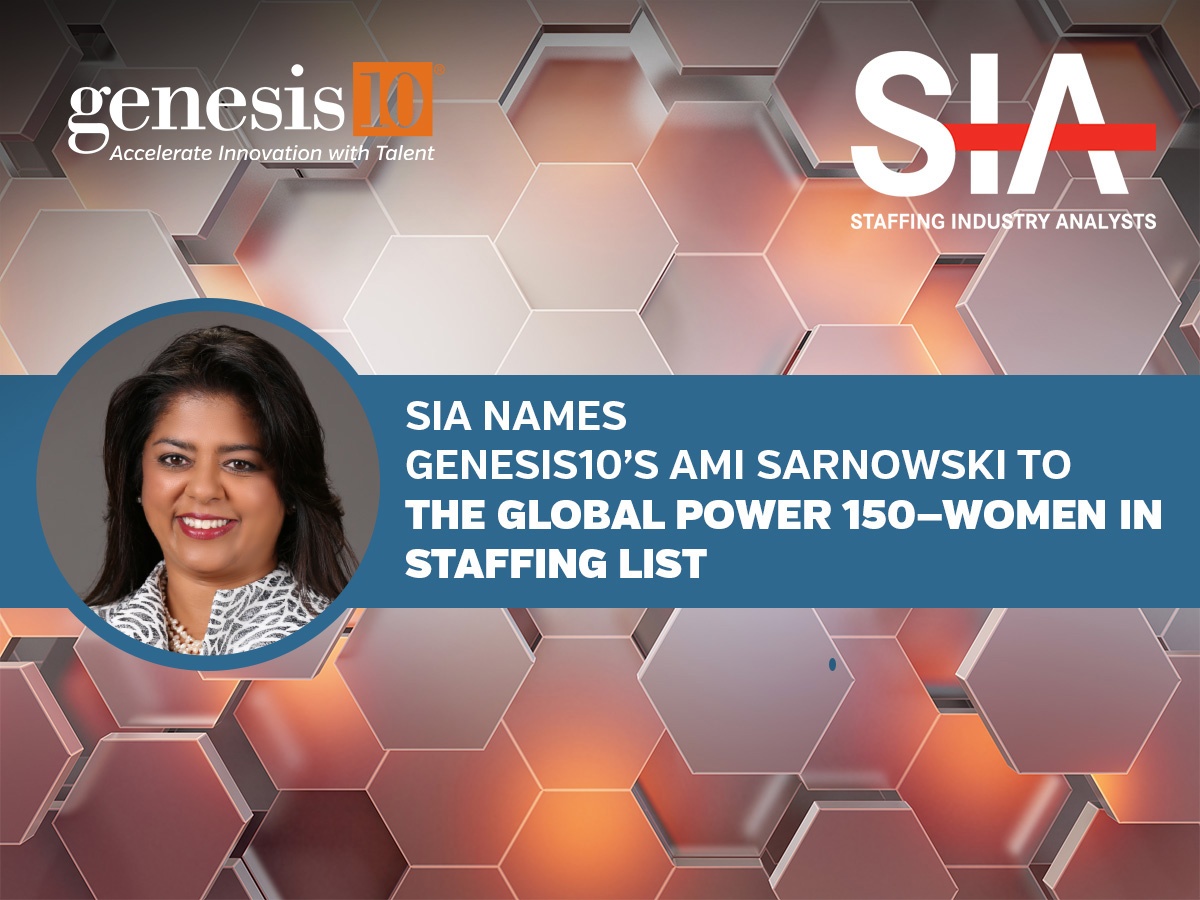 Not a ranking, the list shines a spotlight on the women in staffing whose accomplishments and contributions have not just elevated the industry but have helped to shape, define and influence the rapidly evolving world of work. From established players to up-and-coming executives, the women on this year's list are succeeding in taking a $461 billion global industry forward. View Ami Sarnowski's profile on the SIA Global Power 150—Women in Staffing list.
"This year's SIA Global Power 150 – Women in Staffing list is comprised of some truly exemplary leaders in the global staffing and recruiting industry, and these leaders should be proud of their tremendous accomplishments," said Art Papas, Founder and CEO of Bullhorn, sponsor of this year's list. "These amazing leaders serve as role models for everyone in the industry and their leadership will encourage the next generation of innovative thinkers."
As Chief Innovation Officer at Genesis10, Sarnowski is responsible for developing new and/or evolving existing corporate capabilities as well as designing client-specific talent solutions that create value through cost savings, process efficiencies and strategically aligning talent strategies by balancing cost, risk, quality and capability trade-offs. She has nearly 25 years of experience in the IT Industry with 12 of those years as a management consultant specializing in the areas of enterprise business transformation, organizational change management and supply chain management.
The Global Power 150 – Women in Staffing website showcases these inspiring leaders and the impact they have on the industry. In its fourth year, the annual list recognizes female leaders and influencers in the global talent marketplace. Previously, the list comprised of 100 female leaders worldwide; this year 150 women have been recognized.
"It continues to be essential that we recognize female leadership and call out the immensely important roles these women play in developing, driving and delivering solutions, work models and value for the industry. It is exciting to see the list grow this year to include more of the executives who are making things happen across the workforce solutions ecosystem," said Subadhra Sriram, Editor & Publisher, Media Products at SIA.
Genesis10 is a professional technology service firm providing staffing, workforce optimization and domestic outsourcing solutions, onsite, onshore or in a hybrid delivery model, and has been named to the SIA Largest U.S. Staffing Firms list in 2018 and 2017.
Ami Sarnowski is a blogger at Genesis10. Read her recent post, Immigration Reform: Where Do We Go from Here?