Staffing Industry Analysts (SIA) has named Harley Lippman, Founder and CEO of Genesis10, to its North American 100 Staffing Leaders list for 2019. SIA is the global advisor on staffing and workforce solutions.
SIA's eighth annual list of North American staffing leaders honors 100 individuals whose influence and accomplishments are elevating the workforce solutions ecosystem and taking the industry forward. The 2019 Staffing 100 list is sponsored by Indeed.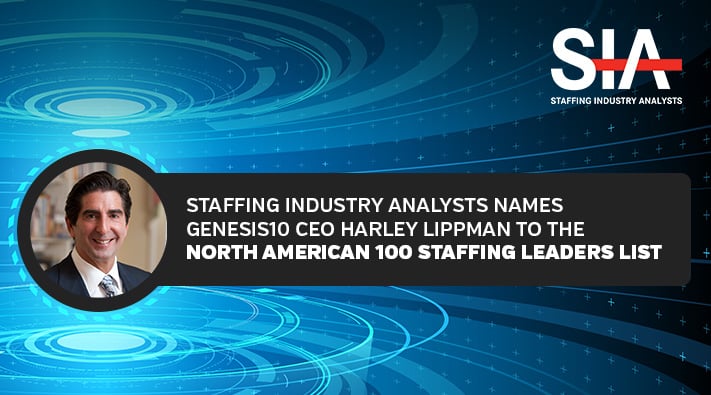 View Harley Lippman's profile on the SIA North American 100 Staffing Leaders list:
"The 2019 Staffing 100 North America stand out as leaders, executives and visionaries and for their significant commitment to empowering people. From job-seekers and internal talent to partners and stakeholders across the ecosystem, the Staffing 100 honorees understand that people helping people is both a competitive advantage and a way to advance the world of work for all," said Subadhra Sriram, Editor & Publisher, Media Products, SIA. "Congratulations to those individuals named to this year's list for their achievements and contributions and for making it, ultimately, about people."
The Staffing 100 list is also featured in the January/February 2019 issue of Staffing Industry Review magazine.
Genesis10 is a professional technology services firm providing staffing, workforce optimization and domestic outsourcing solutions, onsite and onshore.
National media outlets such as Bloomberg, the Wall Street Journal and CNBC frequently turn to Harley Lippman for his insight on news and trends affecting the nation's employers and workforce: