The pressure is on companies to realize ROI from investments in AI, automation, blockchain, networked devices and enhanced cybersecurity—and to bring in talent that makes this happen, quickly. Yet, while infusing talent for effective digital transformation is a top priority, it is easier said than done.
So writes Harley Lippman, Founder and CEO of Genesis10, and member of the Forbes Human Resources Council, in an article posted on Forbes.com, "Why Workforce Strategy Wins In The War For Talent." Lippman is a regular contributor to the site.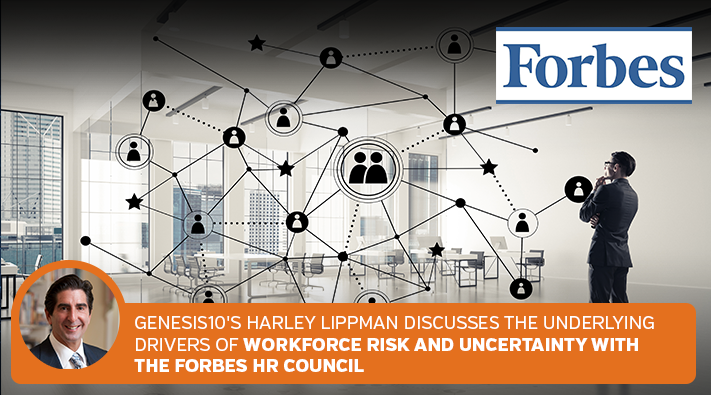 In the article, Lippman writes, "Even though companies are feeling the heat to realize the ROI from investments in digital transformation initiatives, if they don't believe that they can attract people who can make the new technologies work, then the risk and uncertainty in pulling the trigger on purchases can be crippling…Is it riskier to do nothing?"
What's required of leaders is to first understand the trends that breed the risk and uncertainty that prevents companies from reaping the benefits of digital transformation, Lippman writes. In the article, he examines the underlying drivers of workforce risk and uncertainty: Immigration reform, the talent squeeze, talent misrepresentation, the changing IT landscape and training and professional development.
"These challenges require companies to think beyond recruiting and culture," Lippman writes. "The business imperative is to build for tomorrow through sophisticated workforce and location strategies."
Forbes Human Resources Council is an invitation-only, fee-based organization for senior-level human resources executives across all industries.