With the current market for technology talent so tight, companies are focusing on employee retention, perhaps nowhere more so than in Long Island City, New York, as Amazon begins its first wave of hiring for HQ2. The online retail giant, which eventually plans to employ 25,000 tech and non-tech workers in the region, will begin with hiring 700 in the second quarter.
"The biggest mistake companies can make is to offer employees more money," Harley Lippman, Founder and CEO of Genesis10, advises companies on employee retention strategies in an interview with Fox 5 Reporter Jennifer Lahmers on the news program, Good Day New York.
"Usually the problems are deep-rooted," Lippman says. "You need to have a good, honest discussion with the employee to learn what is making them unhappy." In the story, the Genesis10 CEO is seen checking in with firm's employees in New York.
The segment also features an exclusive interview with Ardine Williams, VP of People Operations at Amazon, who shares tips for applying for work at HQ2.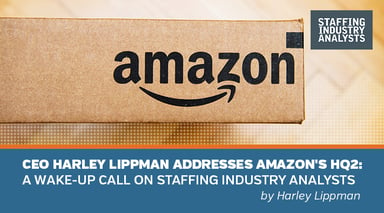 Also read: Genesis10 CEO Harley Lippman Addresses Amazon's HQ2: A Wake Up Call on Staffing Industry Analysts.