The Des Moines Business Record has named Genesis10 a top Technology Solutions Provider and a top Employment Placement Firm, according to its 2019 Book of Lists.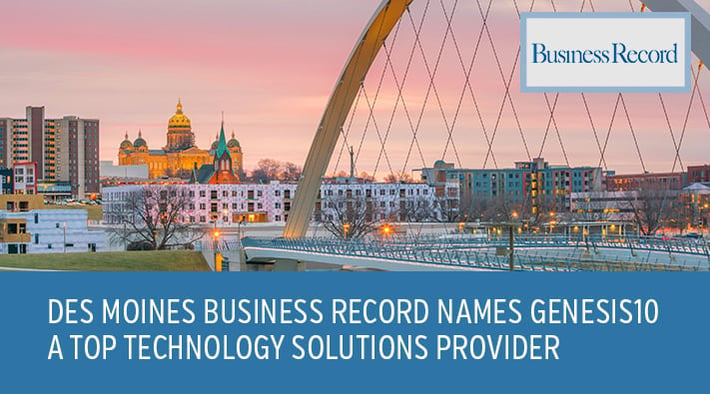 Published annually in January, the Business Record's Book of Lists is the definitive resource guide for business professionals in Central Iowa. The Business Record released its 2019 Book of Lists at an event hosted recently by Iowa State University Ivy College of Business at Capital Square in Des Moines.
Genesis10's team in Des Moines is led by Guy Arnone, Business Operations Director, who has more than 20 years of industry experience. The team also includes Brian Zegers, Business Development Director, and Lisa Dahm, Recruiter.
"Genesis10 is excited to be named to these two important business lists for 2019 in Central Iowa," said Arnone. "Being recognized by the Business Record is a testament to the hard work we put into the relationships we have with our clients, understanding and helping to solve for their workforce challenges in this tight talent market with innovative services and solutions. We look forward to continuing to build on their success in the new year."
Genesis10 is a professional technology services firm that provides staffing, workforce optimization and domestic outsourcing solutions onsite, onshore or in a hybrid delivery model.
Genesis10 has 19 offices and six delivery centers across the U.S. The Des Moines office is located at 3706 Ingersoll Avenue, Des Moines, Iowa 50312. The phone number is 515-223-7765.