Genesis10 is one of the Top IT Consulting Firms in the Twin Cities, according to a list recently published by the Minneapolis/St. Paul Business Journal. Inclusion on the list is based on hours billed in 2020.
Over the years, Genesis10 consistently places in the top five firms on the list—this year, that place is #2.
Genesis10's Minnesota office is located at 445 Minnesota Street, Suite 1500, St. Paul, MN 55101. Angie Brekke, Managing Director, manages the local team there.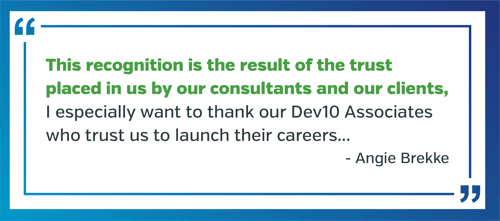 "This recognition is the result of the trust placed in us by our consultants and our clients," Brekke said. "I especially want to thank our Dev10 Associates who trust us to launch their careers with marquee companies in Minnesota. Dev10 is making our community stronger by reskilling exceptional local talent for high-demand, lucrative positions in technology. We provide unparalleled training to Dev10 Associates and we are thrilled to be part of the solution to the tech talent shortage."
In an article that accompanies the list, "Demand for IT talent is high. One firm's solution: 'We create that talent,'" the Minneapolis-Business Journal reported that IT consulting firms are struggling to find the talent they need to serve their clients. Brekke said that a candidate with the right skills and high potential can incite a bidding war.
Genesis10 launched Dev10 in 2018 in Minneapolis, and has since expanded to other cities, including Milwaukee, Dallas, Charlotte and Washington, D.C. The three-month-long program trains people in software development technologies, providing clients with a steady stream of junior-level talent.
In 2020, the Minnesota Technology Association presented Dev10 with a Tekne Award, which recognizes the best and brightest of Minnesota's diverse science and tech-based economy. In 2021, Business Insider recognized Genesis10 as a Best Company for Career Growth.
Genesis10 is a professional technology services firm providing Staffing, Direct Hire, Digital Consulting, Talent Creation and Onshore Managed Services.