Genesis10's Angelia Brekke is one of several executives from top tech firms in the Twin Cities the editors of the Minneapolis/St. Paul Business Journal asked to reflect upon the past year in business and to share her outlook for 2022.
The editors selected the execs from companies that made the business journal's annual lists in 2021. In August, the paper ranked Genesis10 the #2 IT consulting firm in the Twin Cities for 2021.

Brekke is Managing Director of Genesis10 in St. Paul, and President of Dev10, the firm's Talent Creation Program.
The business journal published the article, "Leaders from Comcast, Thomson Reuters and other top Twin Cities tech firms look back on busy 2021," in its 2021-2022 Book of Lists.
Here is a clip of the article: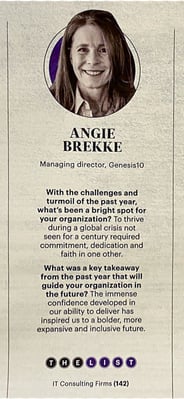 MSP Business Journal: With the challenges and turmoil of the past year, what's been a bright spot for your organization?
Brekke: To thrive during a global crisis not seen for a century required commitment, dedication and faith in one another.
MSP Business Journal: What was a key takeaway from the past year that will guide your organization in the future?
Brekke: The immense confidence developed in our ability to deliver has inspired us to a bolder, more expansive and inclusive future.
In addition to the Top IT Consulting Firm in the Twin Cities recognition, Genesis10 received Best CEO, Best Company for Women and Best Company for Work-Life Balance awards, among others in 2021. The Minnesota office also has been named a Top Workplace in Minnesota and has received a Tekne Award from MHTA for Dev10.