Genesis10 is one of the Best Companies for Work-Life Balance, as reported by Business Insider. Other companies on this year's list include HubSpot, Chegg, Farmers Insurance, Whole Foods Market, Home Depot and Choice Hotels.
It is the third consecutive year that Genesis10 has received an award for Work-Life Balance.
The award is presented annually to recognize companies that provide fair pay, perks, benefits and work environment, as determined by employees. The final data set was compiled from 15 million ratings across 70,000 U.S. companies large and small by Comparably.

"We are excited that Genesis10 has been recognized as one of the best companies in the nation for work-life balance for a third consecutive year," said Glenn Klein, President, Genesis10. "This award is especially meaningful this year as many employees had to make adjustments during the pandemic for working remotely, often alongside spouses and children sharing the same space. We commend our employees for all they do for their families and for Genesis10 and we continue to strive to provide the support they need to succeed."
In July, Genesis10 was recognized as a Best Company for Career Growth and, in April, as a Best Place to Work in New York as reported by Business Insider.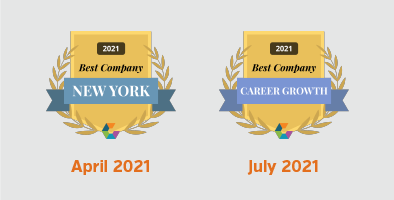 ---
Headquartered in New York, Genesis10 is a professional technology services firm providing staffing, workforce optimization and domestic outsourcing solutions. The company was founded in 1999 by CEO Harley Lippman and is dedicated to providing talent and talent services in support of its clients' growth and business-as-usual initiatives in a cost-effective onsite or onshore model. Genesis10 has more than 150 clients ranging from Fortune 100 to mid-cap companies.