The Milwaukee Journal Sentinel has named Genesis10 a Top Workplace in Southeastern Wisconsin.
Top Workplaces recognizes the most progressive companies in Southeastern Wisconsin based on employee opinions measuring engagement, organizational health, and satisfaction. The analysis included responses from more than 62,000 employees at Southeastern Wisconsin public, private and nonprofit organizations.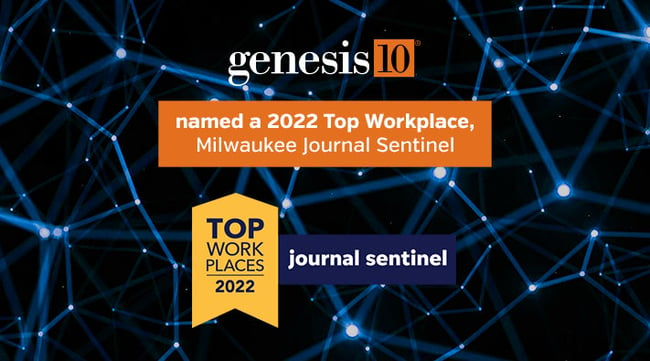 "Genesis10 is honored to be recognized as one of the Top Workplaces in Southeastern Wisconsin by the Milwaukee Journal Sentinel," said Joe Jens, Senior Vice President, Wisconsin Region, Genesis10. "In today's talent market, employees and consultants can choose where they spend their time each day. Our Wisconsin team is second to none. We are truly grateful that they choose Genesis10 and all they do for our clients. Thank you, team."
At a virtual event announcing the Top Workplaces winners, George Stanley, Editor of the Milwaukee Journal Sentinel and Regional Editor of USA TODAY Network Wisconsin, congratulated the 147 companies that were voted a Top Workplaces Award by their employees. Citing Drive, a book by Daniel Pink, Stanley described the top motivators for people at work as long as they are paid fairly. Among them, he said that employees want their jobs to matter, to have purpose, to be bigger than themselves.
"Leading the way to better workplaces for all of us sounds like a very important purpose to me, something bigger than yourselves, bigger than even your own companies, although receiving this recognition should also help you outcompete your competitors for the best employees."
The Milwaukee Journal Sentinel Top Workplaces list appears in a special supplement published on Sunday, May 1.
In an article in the supplement, "21 Companies Appear on List for First Time," Jens attributed Genesis10's success to "its culture defined by active listening and mutual respect." He said, "We are a company that hires character, people with good character, and then we teach them the technical parts of the job."
To qualify for the Southeastern Wisconsin Top Workplaces, a company must have more than 50 employees in Southeastern Wisconsin. Rankings were composite scores calculated purely on the basis of employee responses.
Recently, Genesis10 was recognized nationally with a Best CEO award for CEO Harley Lippman by Business Insider and locally by the Milwaukee Business Journal as one of the area's top Staffing Services Firms. Genesis10 has received Top Workplaces Awards in Charlotte, Dallas, and Minneapolis-St. Paul.