The Dallas Morning News has named Genesis10 a Top Workplace in the Dallas/Fort Worth metro area.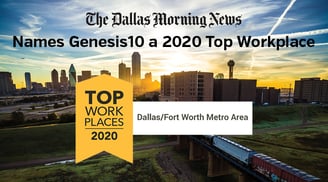 The Top Workplaces list is determined based solely upon employee responses to survey questions about engagement, organizational health and satisfaction. Surveys were sent to employees during the uncertain days of March and April.
"The pandemic provided companies and their leaders with a unique test to see if they can keep their culture strong," said Grant Moise, President and Publisher of The News. "I admire and celebrate those companies that achieved the most votes from their employees during very challenging circumstances."
Together, Genesis10's office and delivery center in Dallas were named National Standard winners, exceeding the standards of what it means to be a Top Workplace.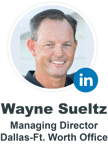 "There are a lot of variables that make companies great places to work, but the most important of these is its people," said Wayne Sueltz, Managing Director of Genesis10's office in Dallas-Ft. Worth. "Thank you to all the great people who make this a great place to work. It's your humanity, commitment and belief that makes us who we are."
It is the 12th year that The News has recognized the Top Workplaces in Dallas/Fort Worth, one of the most competitive metro areas in the nation. More than 3,000 companies were invited to participate, and 246 organizations agreed to enter the competition.
The Dallas-Fort Worth metro area Top Workplaces 2020 list was published in The Daily News on Sunday, November 16.
Genesis10 recently received two recognitions from the Staffing Industry Analysts—Top U.S. Staffing Firm and Top U.S. IT Staffing Firm. Earlier this year, Genesis10 was named one of the Best Companies for Work-Life Balance, as reported by Business Insider and one of the Best Companies for Professional Development, as reported by USA Today.
Genesis10 is a professional technology services firm providing Staffing, Direct Hire, Digital Consulting, Talent Creation and Onshore Managed Services.