The Charlotte Observer has named Genesis10 a Top Workplace in Charlotte.
Top Workplaces recognizes the most progressive companies in Charlotte based on employee opinions measuring engagement, organizational health, and satisfaction. The analysis included responses from more than 25,000 employees at Charlotte public, private and nonprofit organizations.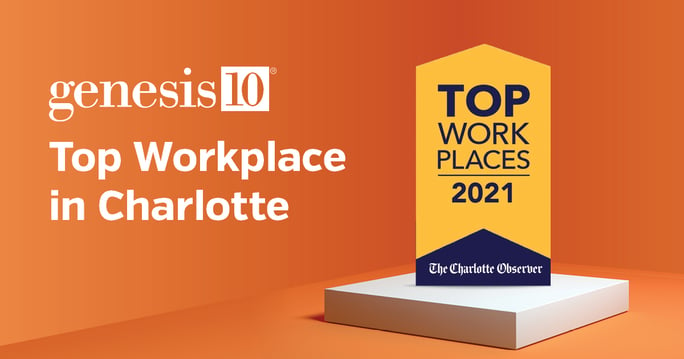 "To be ranked among Charlotte's Top Workplaces is an honor and a reflection of the dedication of a truly remarkable group of people," said Eric Roberge, Managing Director, Genesis10, Charlotte. "Our employees truly care for one another, a sentiment that extends to our relationships with our candidates and consultants, and helps to strengthen our competitive position in the marketplace. I'm truly grateful for them and all they do."
At a virtual event announcing the Top Workplaces winners, the event host, Jonathan Braun, said:
"Over the past year, we've seen businesses navigate their way through a pandemic, implement remote working, and experience changes within their organizations that will shape the future course for their businesses for years to come. We also saw the largest turnout in nominations and participation for our Top Workplaces program. If you made our list, then you are a winner."
To qualify for the Charlotte Top Workplaces, a company must have more than 50 employees in Charlotte. Rankings were composite scores calculated purely on the basis of employee responses.
A complete list of those selected will be published in the Charlotte Observer Top Workplaces special supplement on Sunday, November 14.
Recently, Genesis10 was recognized nationally as a Best Company for Work-Life Balance by Business Insider, and locally by the Charlotte Business Journal as one of the area's Largest Temporary Staffing Companies.
---
Headquartered in New York, Genesis10 is a professional technology services firm providing staffing, workforce optimization, and domestic outsourcing solutions. The company was founded in 1999 by CEO Harley Lippman and is dedicated to providing talent and talent services in support of its clients' growth and business-as-usual initiatives in a cost-effective onsite or onshore model. Genesis10 has more than 150 clients ranging from Fortune 100 to mid-cap companies.