The Charlotte Business Journal has named Genesis10 to its 2021 Largest Temporary Staffing Companies list. The publication ranks firms based on the number of local temps on the payroll as of May 1, 2021.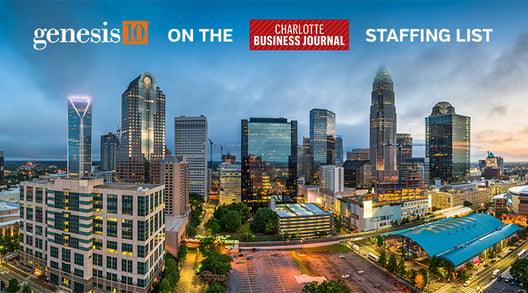 Genesis10's Charlotte office is located at 212 S. Tyron St., Suite 650, Charlotte, NC 28281. Eric Roberge, Managing Director, manages the local team there. Genesis10 also has two delivery centers in Charlotte.
"We are excited to once again be named a top staffing firm in Charlotte," Roberge said. "Our team in Charlotte has worked tirelessly throughout the pandemic and have continued to show that dedication as we emerge back into office life again. I am truly grateful for all they do each day for our clients, consultants and one another. We look forward to many years of continued success in the Charlotte area."
Staffing Industry Analysts consistently year after year names Genesis10 to its list of top U.S. Staffing Firms. Recently, Business Insider recognized Genesis10 as a Best Company for Career Growth.
Genesis10 is a talent, workforce solutions, and technology consulting firm that has served the Charlotte market since 2005.