Staffing Industry Analysts (SIA) has named Harley Lippman, Founder and CEO of Genesis10, to the 2023 Staffing 100 North America list. SIA is the global advisor on staffing and workforce solutions.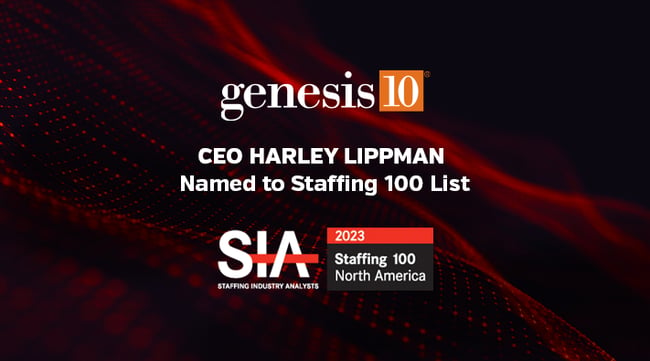 SIA's 12th annual list honors the 100 most influential staffing leaders whose work significantly impacts the workforce ecosystem. It comprises men and women who guided the industry to staggering growth amid a turbulent environment in 2022
View Harley Lippman's profile on the Staffing 100 North America list.
"Despite a devastating pandemic, war overseas, global inflation and a constantly evolving world of work, the staffing industry not only recovered but grew substantially past pre-pandemic levels," said Barry Asin, SIA President.
"Seeing how the industry achieved such success merely requires a look at the Staffing 100 North America, who faced and leapt high over those obstacles," he added. "As we look ahead to an uncertain period, we salute those who guided the industry through an often turbulent 2022. Congratulations 2023 honorees!"
The Staffing 100 North America list is featured in the January/February 2023 print and online editions of Staffing Industry Review magazine. SIA will recognize the Staffing 100 honorees during the Executive Forum North America taking place March 6-9, 2023 in Miami Beach.
The Staffing 100 North America list is sponsored by Indeed.
Earlier this year, Genesis10 received a Best of Staffing Client and a Best of Staffing Employee Award. Genesis10 also was recently recognized as a Best Company for Work-Life Balance and CEO Lippman has been honored as a Best CEO for Diversity and Best CEO for Women.
Genesis10 is on SIA's Largest Staffing Firms in the U.S list.