Genesis10 is one of the Best Companies for Work-Life Balance, as reported by Business Insider. Other companies on this year's list include 23andMe, IBM, Adobe, Stanford University, HubSpot, Chegg and ZipRecruiter.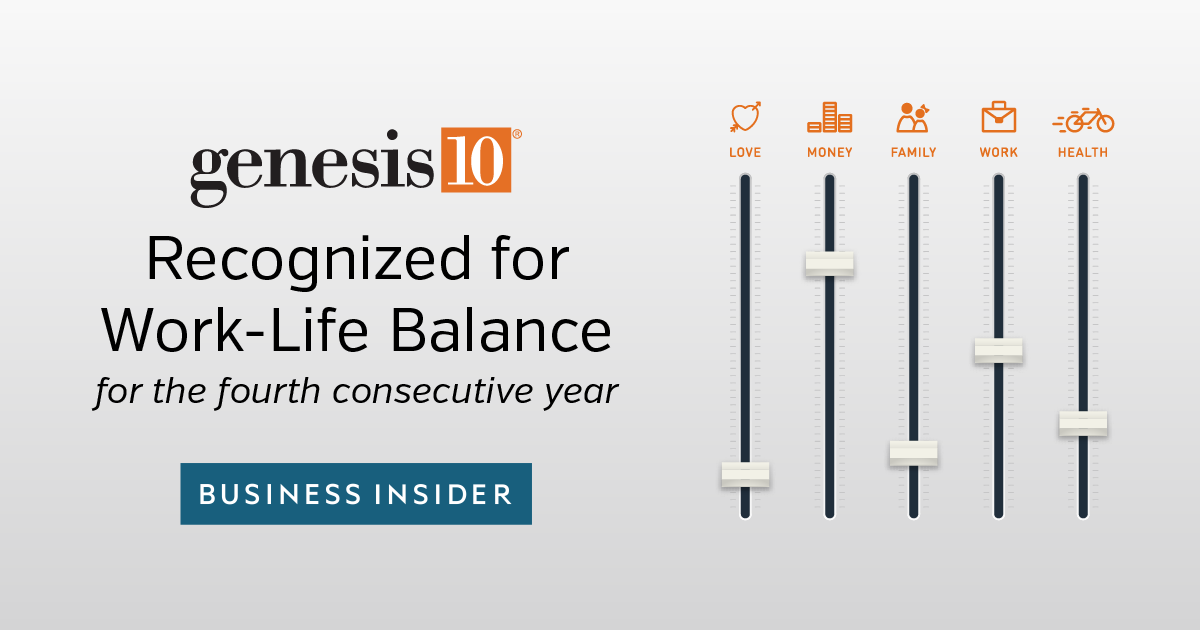 It is the fourth consecutive year that Genesis10 has received an award for Work-Life Balance.
The award is presented annually to recognize companies that provide fair pay, perks, benefits and work environment, as determined by employees. The final data set was compiled from 15 million ratings across 70,000 U.S. companies large and small by Comparably.
"We are excited that Genesis10 is recognized as a best company for work-life balance," said Glenn Klein, President, Genesis10. "Receiving this recognition for four consecutive years as we all continue to adjust to working through a pandemic is testament to our leadership and HR teams and their support of our employees who tirelessly serve our clients and consultants. We are grateful for all they do to help ensure our work-life balance and continued success."
"Congratulations to Genesis10 CEO Harley Lippman and his leadership team for providing employees with a culture that promotes a healthy work-life balance," said Comparably CEO Jason Nazar. "Our studies show that having this is the No. 1 need for many workers today, so the fact that Genesis10 has been doing so for four years running is quite the accomplishment."
Genesis10 was also recently named a Best Company for Career Growth and CEO Harley Lippman was recognized as a Best CEO for Diversity and a Best CEO for Women, as reported by Business Insider.