If you have the skills and interest, there's a tech role for you right now in Austin, says Tara Wyborny, Vice President of Talent Development at Dev10, Genesis10's Talent Creation program. Wyborny recently participated in a virtual panel discussion, "Who's Austin Hiring," by Austin Women in Technology (AWT).
Also on the panel were:
Angela Means, Assistant Director for the City of Austin

Kimberly Storin, Chief Marketing Officer for Zayo

Bryan Chaney, Employer Brand Lead, Corporate Recruitment for Workrise
Heather Trumpfheller, President of AWT, moderated the discussion.
To illustrate what the market is like, there are currently 12,000 unfilled Java Developer roles in Austin—and only 785 qualified candidates to fill them.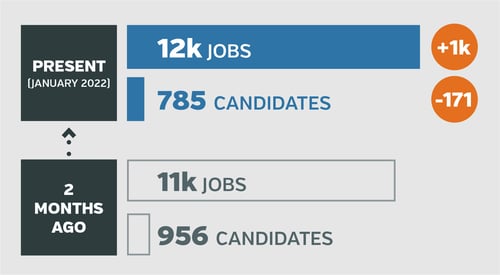 Still, if you're looking for your dream job in Austin, you'll need a leg up on your competition. For that, the panel shared their sure-fire tips for job candidates hoping to land a plum tech role in town:
Spend time on your LinkedIn profile.
Your LinkedIn profile is as important as your resume, if not more so. When Zayo's Storin learns that someone is seeking a role in her organization, the first thing she does is look at their LinkedIn profile.
"Your baseline for your profile is that it reflect your resume, and your profile should reflect who you are as a person," she says. For instance, when writing the "About" section, include volunteer work as well as any other identifying qualities about you. For example, if you are a long-distance runner, you might want to mention that you're resilient in the face of adversity. Link to your portfolio if you have one. "There is a ton of value in putting time and effort into your profile, making it reflect who you are and the things that are important to you," she says. "We are hiring humans." Workrise's Chaney agrees. "I'm a super big fan of using LinkedIn to showcase who you are as a human."
Learn what the leadership and culture are really like—at the interview.
During the interview, Storin suggests asking the hiring manager for her references. "I ask for yours, you are allowed to ask for mine," she says. "As a leader, I am happy to put you in touch with people who work for me or have worked for me to understand the type of leader I am, how I run a team, etc. Understanding what my references look like is a fair question and I wish more people would ask for them."
As for the company culture, Means at the City of Austin has had candidates ask her about it at the end of an interview. "I always enjoy that. It shows that you are interested in working for the organization. The interview is meant to be on both sides, to make sure it's a good fit."
Workrise's Chaney suggests candidates dig into the hiring manager's response to the question by asking these follow-ups:
When was the last time you felt that ''great culture" and what did that mean to you?
What's different about the culture?
How's your experience been?
What's been your path to the role?
When was the last time you worked hard, and what does that mean for you?
Further, if the job isn't newly created, research the person who left it on LinkedIn and message them. "Ask why they left and about their experience working for the company," he says. "I've had success with this because most people don't do it. Do your own research to learn the real story."
Find out how the company retains employees in this job market.
Attracting employees is one thing. Retaining them is another, especially in this red-hot job market. One way to learn more is to ask questions about training, the resources that are made available to you to help you grow your career, says Wyborny at Dev10.
Your managers will make an investment in your development if you ask for it. Storin has asked for sponsorship and support. "Companies I've worked for have paid for me to attend conferences and training," she says. "If you are an impact player and have rationale to be at an event, your manager will support you."
Trust the process—it may not be "ghosting."
Am I being "ghosted?" Ghosting is abruptly cutting off contact with someone without giving that person warning or explanation for doing so. Say you interview for a role but don't hear back from the hiring manager. That's ghosting.
For recruiting and tech roles, the longest cycle, from application to offer, may be four weeks. Dev10's Wyborny who acknowledges that the timeline for Dev10 is very different and points out that her team is very transparent about their process, suggests reaching out to your contact 2-4 weeks after your interview. "If you reached out through multiple means, three or more times in three weeks, if you're not being ghosted, then they are taking you on a long journey that they haven't shared with you. To me, that's just bad employer branding. But you also have to give your contact some time to respond. It might take them 2-3 days."
Final piece of advice, ask the questions about timing upfront during the interview: What should I expect? How should I follow up with you if I don't hear back? As Chaney says, "a good recruiter will say, 'I will follow up with you.' A great recruiter will follow up with you."

Genesis10's Talent Creation program, Dev10, was a sponsor of the presentation.