Looking for a job in tech? Well, the market is certainly in your favor. In October, employers listed 360,065 job openings for technology positions, an increase of nearly 76,000 from the previous month and the highest monthly total since September 2019, according to CompTIA.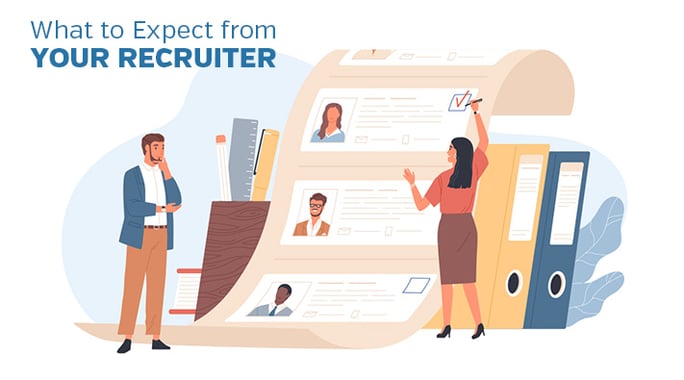 If you have the right qualifications, you may have your pick of roles. How do you choose the role that's right for you? How do you ensure that your qualifications match the requirements the employer is seeking—and how do you ensure that you present your best self during the interview?
Working with a recruiter can help you land the job.
Have you worked with a recruiter? More than a link to a job, your recruiter is your coach, mentor, partner. A recruiter's goal, in a word, is to help you find a job you love and to help employers find quality employees.
"Our recruiting team has a deep understanding of the national and local tech talent markets as well as our clients' unique requirements and company culture, said James Wilton, National Account Manager at Genesis10, in the blog, Recruiters vs Bots: Bring it on! "They are able to precisely match a candidate to opportunity."
What can you expect from your recruiter? Since by definition, a recruiter is experienced at placing candidates in roles (a recruiter is not successful until you are hired!), they have an insider's view of what works and what doesn't. For instance, if you see a job that interests you, Kerri Montana, a recruiter with Genesis10, suggests that you apply for it within 24 to 48 hours. Most candidates, she says, don't know that. This insight can mean the difference between getting hired and not.
When working with a recruiter, an article on the job site Indeed suggests candidates "use the opportunity to improve your resume…and practice your interview skills. Working with a recruiter can help prepare you for the job opportunity in question as well as other potential opportunities in the future."
Improve Your Resume
A recruiter can help you with your resume, reviewing the content to ensure that you are presenting not only the qualifications that the employer is seeking, but also your best self.
According to the Indeed article, "a recruiter can let you know what qualifications the company values the most. This will help you structure your resume in a way that highlights these key skills. Understanding which skills are most important for the position will also help you evaluate whether you're well-suited to the job or prefer to wait for a different type of opening."
A rule of thumb: Everyone's resume can be improved. Your recruiter will make changes to your resume. A good recruiter will seek your approval of the changes before presenting the resume to an employer. If the recruiter doesn't run the resume past you, ask them to see it. You want to make sure that they haven't made any changes that could jeopardize you passing the background check. Remember that everything on your resume must match the information you provide the employer on the job application.
Practice Your Interview Skills
A recruiter can provide you with insight into the employer's interview process--and help you prepare for the interview.
A recruiter can often provide you with specific examples of the questions that the interviewer will ask. This can be helpful as you prepare to meet with the hiring manager. Some recruiters will even offer to set up a practice interview with you. This opportunity provides a unique chance to hone your overall interview skills while also preparing for the meeting in question.
When we ask candidates whether they've ever been prepped for an interview, most say they have not. In our recent blog, How to Prepare for a Job Interview, we pulled together some tips from our experience that have helped our candidates during a job interview. In it, we suggest that you learn all you can about a company and its products, but also to ask your recruiter for his or her insight into the culture of the company, the employer's tech environment and their timeframe for filling the role.
Of course, you'll need to do your homework as well. It's a good idea to research the company and its culture so that you'll have info to supplement your recruiter's intel. And it's always a good idea to review the hiring manager's profile on LinkedIn, to learn as much as you can about them before you meet for your interview.
Recently, a candidate sent us a note expressing her appreciation for the care Genesis10 took in assisting her with her job search:
"Please accept my sincere and heartfelt thanks for taking time on a Friday, to provide invaluable feedback on my resume and identify actions to prepare better for interviews. At times, it becomes difficult to proceed when one has worked on a document for hundreds of hours, never received any feedback, and self doubt creeps up. I can't express my appreciation enough. I will definitely follow up with the companies you suggested and look into contractual opportunities. I don't get a chance to say it very often, but you have provided hope and encouragement to continue on with the journey."
Ask Questions
If you have questions for your recruiter, don't be bashful. Speak up. It's a recruiter's job to ensure that their candidates feel comfortable enough in the relationship to ask questions. In her experience, Montana says that "most candidates either don't know they can or don't feel that they have the right to ask their recruiter questions." Questions you may be shy to ask of your recruiter but certainly can: Am I the only person your firm is presenting? Can this position convert? Candidates hesitate to ask the latter because they fear it may hurt their chances of landing the job, Montana says.
Another sensitive topic is salary. But, as the Indeed article states, "before you decide if a job opening is a good fit, it's important to consider the salary and compensation. If the salary range is too low, you can reserve your time and effort for other opportunities. With your target salary in mind, the recruiter may be able to recommend a different position for you in the future.
"Likewise, if you find that the hiring manager's salary range is higher than anticipated, you can use this information to negotiate effectively if you're offered the job. You can confidently ask for a higher salary if you know that the company's range goes well beyond their opening offer."
And you can always ask us questions! If you need help with your resume or interview prep, let us know. We are happy to help.
Good luck with your job search!