No matter which indicator you choose, all signs point to a strong seller's market for tech talent in 2022.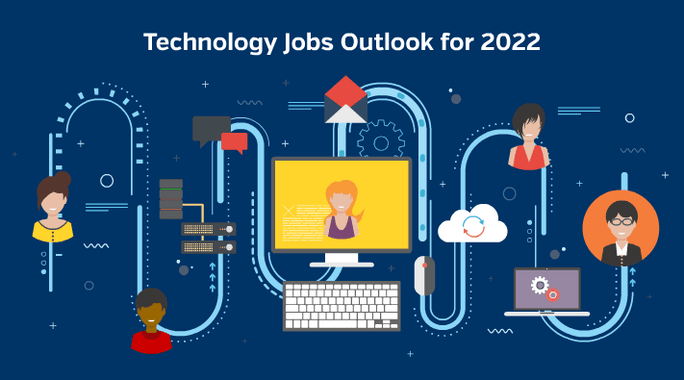 In December, CompTIA's Tech Jobs Report showed continued strong demand for new hiring to fill core and emerging technology positions. Employer job postings for open positions surpassed 316,000 for the month. Industries with the largest number of openings include professional, scientific, and technical services (54,972), finance and insurance (33,680), manufacturing (25,138), and information (18,812).
"Even facing a number of new and unsettling headwinds, the tech jobs market remains red hot," said Tim Herbert, Executive Vice President for Research and Market Intelligence at CompTIA. "Despite the frenzied pace, it's a great a time for both technology professionals and employers to explore new opportunities, reinvest in skills and career development, and prepare to embrace the latest innovations."
Job openings for technology workers are available in almost every region, according to the Tech Jobs Report. The New York, Washington, Dallas, Los Angeles, and Chicago metro areas had the most open positions in November, while the strongest month-over-month increases in job postings were recorded in the San Francisco, Orlando, Phoenix, and Chicago markets.
As for 2022, expectations are for these hiring trends to continue well into the new year.
"2022 is shaping up to be a year of not just recovery, but of acceleration and innovation," said Seth Robinson, Senior Director for Technology Analysis at CompTIA. "We are seeing signs of this in IT budgets, in the initiatives that companies are planning, and in the skills employers are looking to add."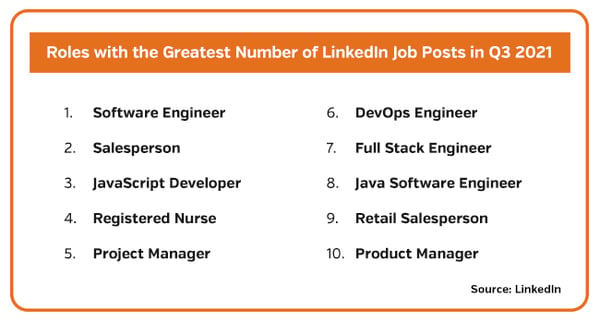 To get a better idea of employer tech talent needs in 2022, Accenture and the Chamber of Commerce for Greater Philadelphia surveyed 200 regional executives about their company's hiring plans for the new year. Only 7% indicated that they were maintaining the same level of tech hiring in 2022 as in 2021, and no one said they'd be reducing it. Skills the executives are looking for include artificial intelligence and machine learning, cloud skills, cybersecurity, blockchain and quantum computing.
The execs say they are competing for talent nationwide. More than a third reported that tech talent is lost to New York, Pittsburgh and Salt Lake City.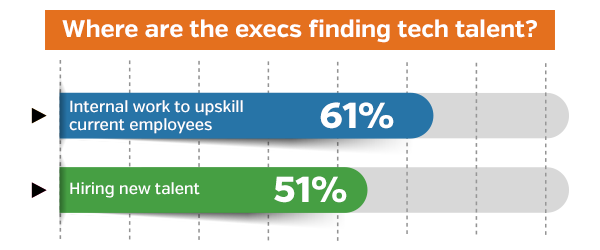 Other signs that indicate the strong seller's market for tech talent will continue well into the new year:
In North Carolina, publicly listed IT positions grew to more than 46,000 in November, according to the monthly IT Job Trends report from the C. Technology Association. At 46,475, the total tops October's 45,984, which had been the previous high. IT job openings have topped 42,000 for five consecutive months.


Recruiting technologists and filling open tech positions will be one of the most difficult IT problems to solve in 2022, say 73% of CIOs and other tech leaders in the U.S., China, the U.K., India and Brazil who work at organizations with more than 1,000 employees across multiple sectors, according to a report by the Institute of Electrical and Electronic Engineers.


Talent shortages is the most significant barrier to the adoption of emerging technology, say 64% of IT executives, according to the Gartner report, 2021-2023 Emerging Technology Roadmap for Large Enterprises. In 2020, this figure was 4%.
Demand for College Grads is Up
Hiring new talent is a strategy that executives plan to embark upon across the country this year: According to a report by the National Association of Colleges and Employers (NACE), Job Outlook 2022 survey, employers plan to hire 26.6% more new graduates from the Class of 2022 than they did from the Class of 2021.
"With job openings exceeding 10 million and the unemployment rate now below 5%, employers are obviously viewing a very competitive labor market," says Shawn VanDerziel, NACE Executive Director. "This suggests that employers will be intensely focused on talent acquisition in the coming year. We are in the midst of the best seller's market since 2000."
The Job Outlook 2022 survey results provide further evidence of the robust job market as almost 60% of responding employers have plans to increase hires this year, compared to just 16.5% last year.
What's more, survey results reveal a shift in employers' perception of the job market. Nearly half of respondents (48.6%) rate the overall job market for Class of 2022 graduates as "very good" and 14.1% rate it as "excellent." Last year, just 3.9% of respondents rated the overall job market for Class of 2021 graduates as "very good" and only 0.5% deemed it "excellent."
Building a Talent Base
Another strategy executives are considering is reskilling and upskilling.
There are amazing benefits to being open to reskilling and upskilling. "From my perspective there are a lot of benefits to building your talent base as opposed to consistently going out to market to find the needle in the haystack," said Tara Wyborny, Vice President of Talent Development (Dev10) at Genesis10 at the SIM—Austin webinar, "Navigating the Tech Talent Shortage: Reskilling and Upskilling."
"You can spend six or eight months looking for the right person, Wyborny said. "But if you can bring in a new fresh face excited to learn, that person could make shocking and significant value adds in that time…. There are situations where you need the experience, but there are also amazing benefits that come with being open to new talent and being willing to invest in them."
Dev10 is Genesis10's program that creates new tech talent for clients by recruiting individuals who are recent college graduates or professionals looking to move into tech and training them in high-demand technologies.
"Through Dev10, Genesis10 helps our client partners have access to a more predictable, scalable pipeline of talent that's going to have not only the relevant technical skills but also the soft skills that have really been a challenge in the technical space," Wyborny said.
Southwest Airlines has established a college-hire program as well as a warrior-hire program which focuses on hiring people separating from the military. Southwest also works with key professional services partners to bring in talent. "One unique program we found is Genesis10's Dev10 Program," said Chris Hightower, Senior Manager at Southwest Airlines, and a participant in the SIM—Austin webinar. "Bringing in junior technical talent that has gone through a boot camp and can start producing quickly, but at a lower cost."