Despite the pandemic and resulting high unemployment nationwide, demand for tech talent is strong and is likely to remain so. COVID-19 and companies shifting to a work-from-home model have pushed digitization and retaining skilled talent to execute to the top of many CIOs' priority lists. But that's not the only effect COVID-19 is having on workforce planning. Add President Trump's decision to halt the H-1B visa program to the mix and CIOs have a lot to think about going forward.
Perhaps a solution to filling the tech talent gap lies in the success of the move to remote work or perhaps a hybrid model.
Tech Unemployment at 4.3%
In June, the nation's unemployment rate was 11.1%. For tech occupations, it was 4.3%.
"The latest employment data for tech was generally positive, with continuing signs of momentum," said Tim Herbert, Executive Vice President for Research and Market Intelligence at CompTIA. "While uncertainty is still a major concern, the forward-looking employer job posting figures suggest hiring will accelerate in areas such as software development, IT support, cloud infrastructure, cybersecurity, and certain emerging tech fields."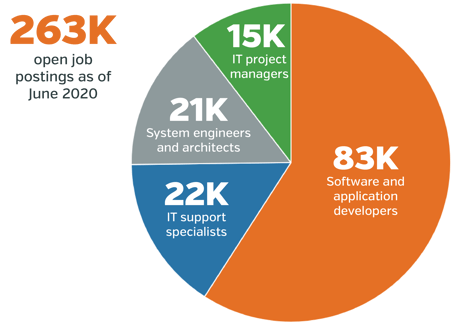 According to CompTIA, employer demand for tech talent reached approximately 263,000 job postings in June, an increase of 42,000 postings over the previous month. In-demand occupations include software and application developers (82,800 job postings), IT support specialists (22,000), systems engineers and architects (20,700), systems analysts (16,900) and IT project managers (14,600). Industries hiring included professional, scientific and technical services, finance and insurance, manufacturing, and information.
H-1B Visas Halted
Last month, President Trump issued a sweeping order, which will be in place at least until the end of the year, that blocked visas for many jobs, including computer programmers and other skilled workers who enter the country under the H-1B visa.
The order also restricts the ability of American companies with global operations and international companies with U.S. branches to transfer foreign executives and other employees to the United States for months or years-long stints. Officials said the ban on worker visas, combined with extending restrictions on the issuance of new green cards, would keep as many as 525,000 foreign workers out of the country for the rest of the year.
The H-1B visa program enables U.S. companies to attract top technical and managerial talent by permitting foreign nationals in specialty occupations to work in the United States for up to six years, and allows qualified candidates to apply for permanent residence.
H-1B visas are issued to skilled workers when employers can demonstrate that suitably qualified staff cannot be found locally. While the number of new H-1B visas is currently capped at 65,000 each year, plus an additional 20,000 for applicants with master's degrees or higher from U.S. educational institutions, 188,123 were issued in 2019 including renewals, according to U.S. State Department figures.
Working from Home is Working
During the pandemic, it is estimated that more than half of the U.S. workforce was working from home. While some companies have started to bring some of their workforce back into the office, many workers will continue to work remotely until later this year or next. Slack, Facebook, Twitter and Nationwide Insurance are among the companies that have announced plans to keep some or all employees at home permanently. While the nationwide move to remote work has not been without its bumps and some workers and employers simply preferring to be in the office, many are finding that remote work has become a viable option.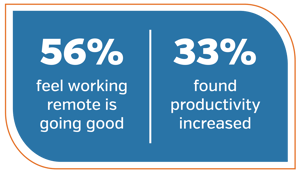 A recent survey of hiring managers by Upwork finds that 56% of hiring managers feel the shift to remote work is going better than expected, with another third finding that productivity has increased. And, as a result of their experiences during COVID-19, 61.9% of hiring managers say their workforce will be more remote going forward.
More Remote Work?
So, what does a strong tech talent market, a shrinking pool of skilled IT workers and signals that the work from home model can be successful mean for CIOs developing their workforce strategy going forward?
A recent Genesis10 poll that asked CIOs how they would restructure their service delivery model given what they've experienced in the first few weeks of the pandemic, finds that they would: 1) increase use of automation, 2) allow more work from home options and 3) capitalize on location diversification.
Well before the pandemic, Harley Lippman, CEO at Genesis10 and member of the Forbes Human Resources Council, was writing on Forbes.com that "by turning down the spigot of skilled foreign worker visa issuances and renewals, H-1B policy change has become a key source of workforce risk and uncertainty, both of which threaten the success—even the launch—of revenue-generating digital transformation initiatives."
But "by working with partners and vendors, companies can use teams of specialized consultants, located at delivery centers in other regions, to tap into other markets where they don't have a footprint or physical presence," he says. "What is also nice is that workers don't have to travel or relocate, and companies can access talent and build capabilities even where they don't have an established presence."
For years, companies have had a varied appetite for work from home depending on regulatory or compliance requirements, management comfort level and perception. Once COVID-19 hit, Corporate America had little choice but to make the move along with the necessary changes to related policies, processes and technology. Frankly, it created a win-win for Corporate America and consultants in terms of options, flexibility and a way to increase talent reach as an alternative given the constraints with H-1B Visas. Some companies are taking it one step further and reducing their real estate presence to capture the financial savings and lean on partners who can support a hybrid delivery model with consultants working remote and/or from a delivery center.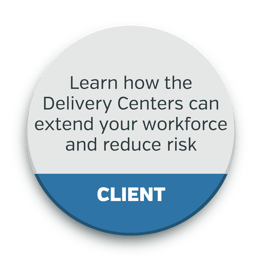 The hybrid model allows companies to capitalize on the flexibility of remote work and extend their talent reach, while also being able to bring teams together in a delivery center to foster collaboration and accelerate delivery. For certain types of work, nothing beats face-to-face.
Interested in learning more about how Genesis10 can help?
Want to join the Post COVID-19 conversation and impact on organizational culture, please complete the poll.