Genesis10 has selected an initial group of seven men and five women for its new Dev10 program. The group began the intense nine-week training on April 9, 2018. Those who successfully complete the program will launch new careers as Software Developers with Genesis10 client companies in the Twin Cities in early June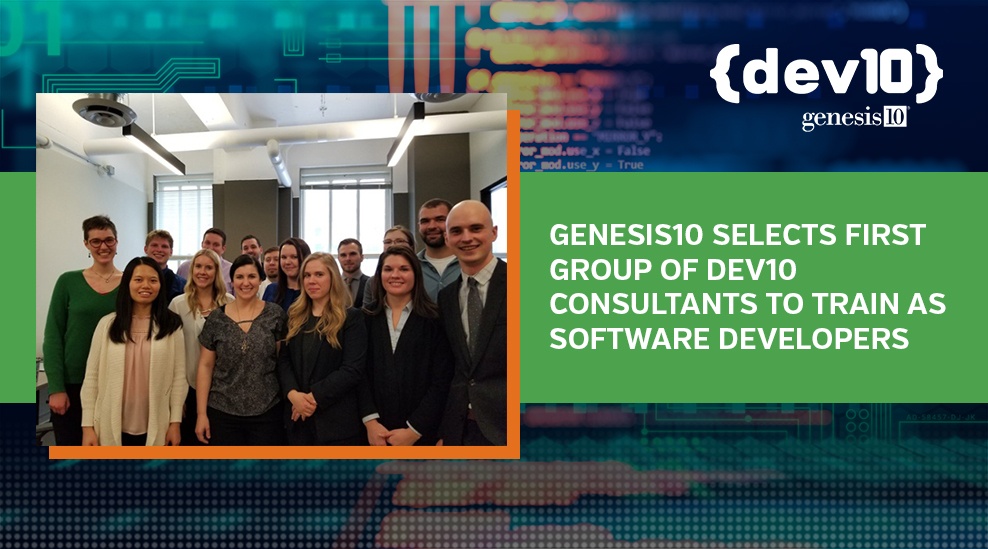 Launched in February, Genesis10's Dev10 program trains a select group of candidates who demonstrate commitment and technical aptitude in skills most desired by U.S. businesses today, such as back-end Java programming to become Software Developers, a role which the U.S. Bureau of Labor Statistics projects will grow 26% through 2026, faster than any other occupation.
Preparing candidates for these in-demand roles is one way that Genesis10 is developing talent to help close a growing technology talent shortage.
"By training Dev10 consultants in Java, Genesis10 is supporting our clients' talent needs as they embrace emerging technologies," said Tara Wyborny, Director—Talent Programs for Genesis10 at the firm's office in Minneapolis. "Given the tight employment market for technology workers in the Twin Cities, Dev10 presents our clients with a local alternative to costly senior developers or offshore resources."
Now the consultants are immersed into an intensive coding boot camp where they are learning Java, REST API and Spring framework. Throughout the Java training, Genesis10 clients across the Twin Cities will have the opportunity to interview Dev10 consultants for software developer positions on their teams. Clients that have expressed interest represent a variety of industries such as financial services and insurance, healthcare, manufacturing and retail. Dev10 consultants will begin their first consulting engagements as Software Developers on June 11, 2018.
Headquartered in New York, Genesis10 is a professional technology services firm providing staffing, workforce optimization and domestic outsourcing solutions. The company was founded in 1999 and is dedicated to providing talent and talent services in support of its clients' growth and business-as-usual initiatives in a cost-effective, onsite or onshore. Genesis10 has more than 150 clients ranging from Fortune 100 to mid-cap companies.
Also see: Genesis10 launches Dev10 Program to Train Software Developers