As we make our way out of the pandemic and businesses determine whether employees will continue to work from home, return to the office, or perhaps do some of both, leadership teams going forward will need to continue to exhibit qualities that successfully navigated their companies through the challenges of the past year.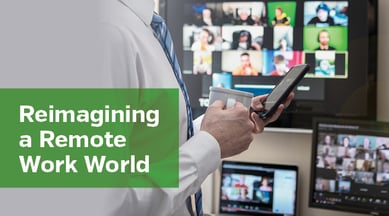 "We need to show compassion, especially now. It is really important," said Harley Lippman, CEO of Genesis10, during a panel session at the SIA Executive Forum North America recently. Lippman was a member of a panel at the virtual event, "Leadership in a Remote Work World," moderated by Subadhra Sriram, Editor & Publisher, Media Products at Staffing Industry Analysts (SIA).
He was speaking to challenges workers unaccustomed to working from home experienced during the pandemic as his fellow panelists championed a remote work model. "We are making the most of this obviously, which is positive and constructive," he said. "On the surface, working from home makes sense. You give people flexibility, they are more motivated. If they are commuting, they save time and cost, which is very valuable. And, presumably, they are happier.

"But let me provide a different perspective. It is difficult to mentor someone when you are working from home. And workers do not have the opportunity to brainstorm, to see someone in the hallway and say, 'hey what do you think of this idea?'"
The Remote Work World
A leader in the remote work world needs to be outcomes-based," said Tim Sanders, VP, Customer Insights at Upwork. "No longer can we manage activity based on visual recognition of onsite talent. For years, most leaders had adopted an AAA model of management--manage attendance, attitude and aptitude. If all three come in, that person is a great talent to have onboard. Problem is that is easy to gain. In the remote work world, leaders need to establish trust and develop accountability by spending our one-on-ones managing outcomes.

As important for leadership is to manage their video presence. "Teams will need to learn to work more asynchronously," he said. "We have been locked into synchronous collaboration. Over the past year, we have seen too many people try to replicate the office over zoom. We now have an opportunity to empower people who can work at any time."
The biggest threat to working from home is burnout. In the short-term, burnout decreases creativity and productivity. Longer-term, burnout results in talented people leaving their job for greener pastures.


Why is burnout such a threat?



Zoom fatigue is real
It's exhausting thinking of your personal appearance and whether you are "in frame."

Blur between work and personal life
When you work at home, it is difficult to turn off work, and you require that everyone in your personal life adapt to your situation, not just eight hours a day, but increasing 10 or 12 hours a day.
Vacations have disappeared

Studies show personal time off decreased by 35% last year, depending on the sector. Sanders offers up a solution: Load management. "Bring in independent professionals or contractors so employees can work within their core skill set. It is a great way for them to way to scale themselves."
As Health Carousel started to bring workers back into the office, the priority was revenue producers who came back to a safe environment, with protocols in place. "We set up a Flex at Work plan, which empowers managers to do what makes sense for their departments, and we encourage PTO," said Stacey Stanley, President of Health Carousel Locum Network. "We also offer mentoring-at-work sessions, smaller groups with executive sponsorship, and continue to support employee recognition. It is the little things that you have to recognize. People need to know. Being empathetic as a leader is so important right now."
In Creative Circle's hybrid work model, an employee has to have a track record during the pandemic to continue working from home. "They need a safe and productive space and we will provide that, and, at the same time, we will maintain appropriate spaces for our teams to come together," said Matt Riley, COO. "Everyone is still figuring out how it will all be configured."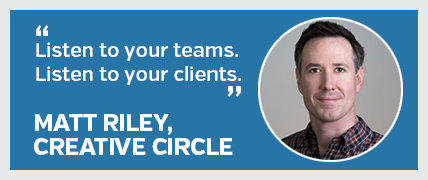 But will a hybrid model work?
There are several ways to think about it. One paradigm is Design In, where junior talent or people tasked with creative problem-solving go into the office for mentorship or purposeful collaboration. Yet, "the real move for 2021 is to develop a variable cost structure," Sanders said. "Payroll remains the cement in the budget. Not only does it limit the ability to pivot and be more agile, it creates an old world cost structure."
As he sees it, the big opportunity is not to figure out hybrid, "I think liability is going to figure that out for us. Now that the pandemic has shattered the belief that many people do not have to be in the office to be successful, we can begin to challenge the creative guesswork that goes behind a job req—we may not even really know if we have 40 hours of work for that employee. That is the opportunity to build stronger operating models and more agile companies" with independent professionals or contractors.
Challenges and Productivity
"Our biggest challenges with managing remote workers are communication and connectivity," said Riley of Creative Circle. "Humans crave connection. Physical proximity is a big part of that. Keeping our teams connected is instrumental. We held a talent show, which is good for culture, but it is not every day. Bringing our teams together safely when we are able to do so will be paramount."
"When it comes to motivation, nothing has changed," Lippman said. "Motivation is about eliminating obstacles for your employees, leading by example, making sure people are happy, checking in with them one on one. Asking basic questions—how are things going? It all comes back to fundamentals."