What a difference a year makes. A new report from the National Association of Colleges and Employers finds organizations plan to hire 7.2% more new college graduates from the Class of 2021 than they hired from the Class of 2020. This is a sharp increase from fall 2020, when employers expected to reduce college hiring slightly.
The rebound in hiring suggests employer optimism, fueled by expectations around the reopening of shuttered businesses, COVID-19 vaccine distribution and the addition of jobs to the economy. While not at the pre-pandemic hiring levels seen in 2019, the overall increase does signal strong movement in a positive direction.
Further evidence of the rallying job market for new college grads is evident in the individual hiring plans as reported in NACE's Job Outlook 2021 Spring Update. Almost 30% say that they will hire more new college graduates—up from 16.5% in the fall—and just 8% plan to decrease hiring, down significantly from 31% reporting such plans in the fall.
What Can You Expect in Tech?
According to CompTIA, February job postings suggest that employers' search for IT professionals is expanding. More than 277,000 open positions were advertised, an increase of better than 44,300 over January and the highest monthly total since March 2020.
Positions for Software and Application Developers accounted for the largest share of the openings.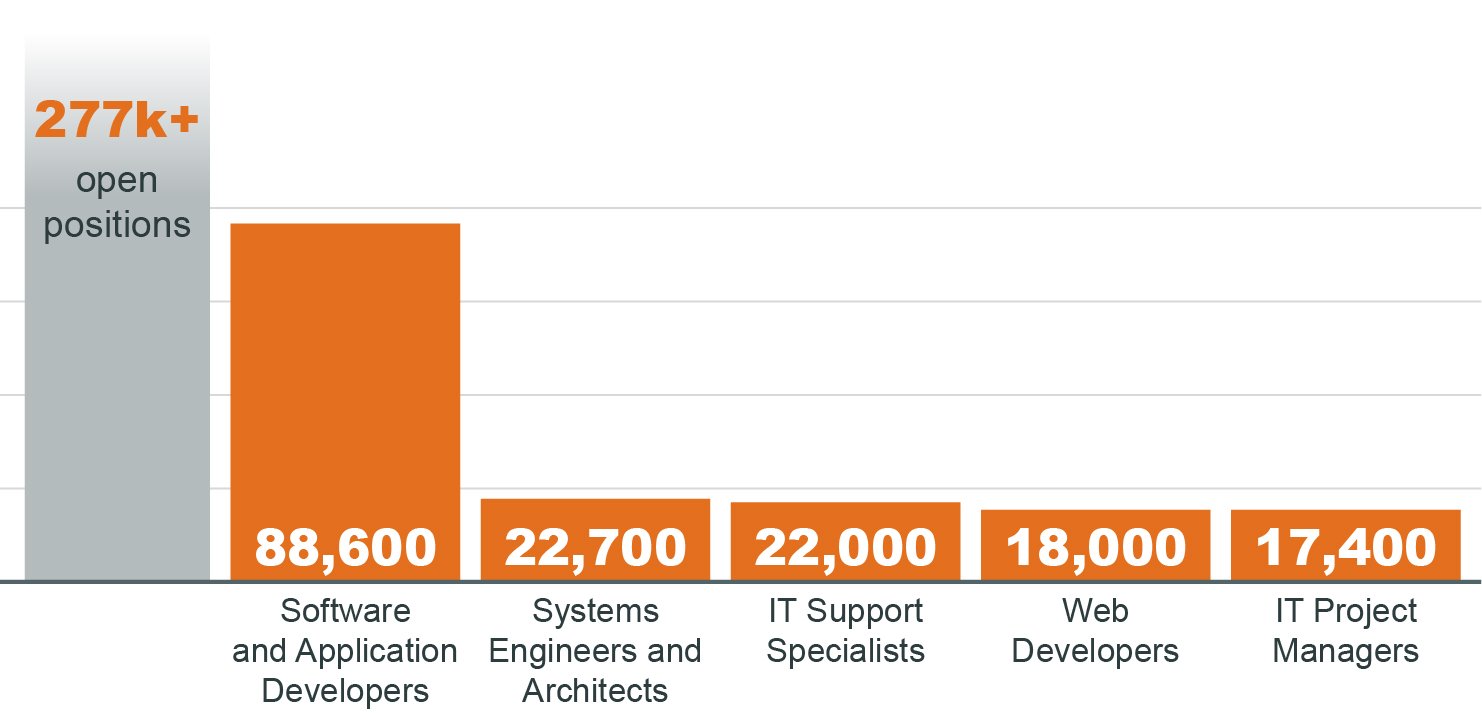 Job openings in emerging technologies or positions requiring emerging tech skills increased by nearly 24% in February, surpassing 81,000 and accounting for 29% of all open positions advertised by employers. Positions in artificial intelligence (12,237) accounted for nearly 15% of the total.
Tech Skills Most in Demand
The demand for digital skills is increasing, with no signs of slowing down, according to LinkedIn's Jobs on the Rise 2021 report which showcases shifts that have taken place as a result of COVID-19. Jobs on the Rise are defined as the career categories that have seen the highest year-over-year growth rates in hiring (as reflected in the April 2020 to October 2020 timeframe).
The report finds that demands for tech talent have changed dramatically, as "the digital transformation of the world economy catalyzed a shift into more remote work." As a result, more than 150 million tech jobs are expected to be added globally over the next five years, including:

Artificial Intelligence Practitioners
Demand is strong for tech professionals with AI experience. In fact, this was the top emerging job trend from last year's report.


Data Science Specialists

According to the 2020 U.S. Emerging Jobs Report, data roles, specifically Data Scientist and Data Engineer roles, are increasing steadily — reflecting about a 35% average annual growth for both roles.


Specialized Engineers


These roles have the highest percentage of remote job openings. Only 22% of 2020 specialized engineering hires were women — creating the opportunity for more diverse hiring.



Landing a Job in 2021

As bright as the job market appears for new college grads in 2021, there are still some challenges to landing that first role, given that we are still in a pandemic with most organizations continuing to conduct much of their business remotely. In other words, candidates have fewer opportunities for in-person meetings for informational and job interviews, acquiring new skills and networking. Still, many of the fundamentals apply.

"It's all about positioning yourself by building your resume, brand, and your network. And being enthusiastic about the process," says Vince Thompson author of Building Brand You: How To Use Your College Experience To Find And Win Your First Job. Thompson suggests the following tips for soon-to-be graduates preparing for the job market:

Expand your networking. "Today, about 75% of new hires happen through networking," he says offering these how-to tips:

Build a target list of people to contact at companies that are hiring.
Join discussion groups on LinkedIn that can expand your contacts and your knowledge.
Connect with thought leaders and ask them questions to gain insight.
Upskill. "Companies want young people who are versatile and able to learn new skills quickly," Thompson says, advising job seekers "to research skills required in fields that you're pursuing and get credentialed through online training programs. If opportunities are far fewer in your chosen field, research where your best skills apply in other industries.
Prepare for virtual interviewing. "When you interview in person, your body language, enthusiasm, handshake and small talk help build a connection with the interviewer," he says. "Being interviewed on a screen demands that you be fully engaged, establish a rapport, have continual eye contact and express yourself clearly."
Launching Your Career in Tech
Whether you are graduating in 2021 or it has been a few years since you have been in school and you are interested in becoming a Software Developer, Genesis10 can help you launch a career in tech.
Be sure to check out our Talent Creation programs:


A recent Dev10 grad, Mackenzie now works on the employee intranet for a major retailer and loves what she does. She heard about Dev10 while still an undergrad at the University of Wisconsin, contacted a recruiter and stayed in touch until graduation when she joined the program. Her advice on launching a career in coding:
"Obviously the first step is to learn a little bit on your own. Make sure it's what you want to do. While I am recommending it to everyone, I also know that it is not for everyone. Definitely take some time and explore on your own. If you like it, take the dive."