The Kansas City Business Journal has named Genesis10 a Top Staffing Services Firm for 2022. The business journal's staffing services list is determined by local employees providing placement.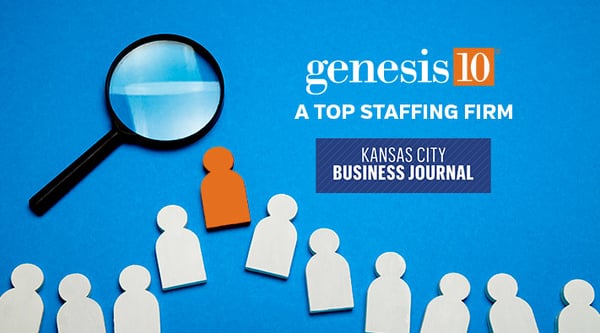 "We are thrilled to once again be named to Kansas City Business Journal's Top Staffing Firm list," says Chris Roe, Regional Vice President, Recruiting, at Genesis10. "As our CEO Harley Lippman likes to say, 'It's all about the people for Genesis10.' That couldn't be more true than here in Kansas City where our team is so dedicated to serving our clients and consultants. We look forward to many more years of continued success in Kansas City."
Genesis10 has been providing staffing services to Kansas City Metro since May 2000.
Staffing Industry Analysts recognizes Genesis10 as a Top US Staffing Firm.
Genesis10's office in Kansas City Metro also has been named a Top IS Outsourcing Firm by the Kansas City Business Journal, ranking #2 for seven consecutive years, 2012-2018. The publication discontinued the list in 2019.