In cities on Amazon's shortlist for HQ2, traditional companies need to pay attention to their workforce strategy and their talent acquisition strategy, Ami Sarnowski, Chief Innovation Officer at Genesis10, said in an article in the Puget Sound Business Journal recently.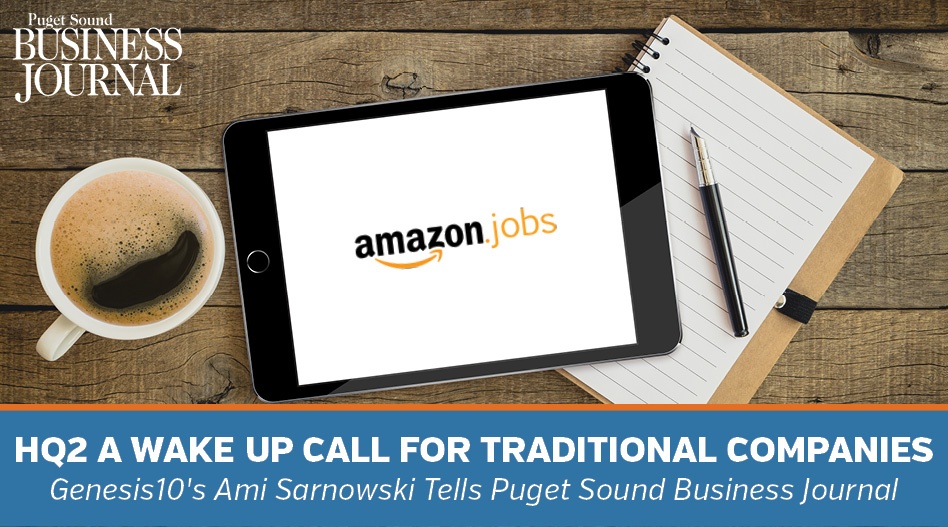 As Amazon enters the final months of its search for a second headquarters, high-tech companies are not the only ones that should be ready for increased competition for talent, Sarnowski said in the article, Non-tech companies should brace for talent poaching in Amazon's HQ2 city. She is referring to the tight tech labor market and demand for top caliber talent.
HQ2 will also be "a wake-up call" for traditional companies doing business in markets that Amazon is looking to enter, Sarnowski said.
Genesis10 is a professional technology services firm providing staffing, workforce optimization and domestic outsourcing services onsite, onshore or in a hybrid delivery model. Headquartered in New York City, Genesis10 has 19 offices and six delivery centers in the U.S.
Picked up by the Dallas News, this piece is included in the recent article, This week in Amazon-o-mania: Georgia politics, poaching and who's got tech talent
Ami Sarnowski writes on workforce strategy issues nationally and specifically to local talent markets, with her articles appearing recently in the Star Tribune, Crain's Cleveland Business and the Des Moines Business Record. She is a regular contributor to the Genesis10 blog. Read her post, Robot or Mom? What Will the Future Hold with AI?