Genesis10 is one of the Best Companies for Women, as reported by Business Insider. Other companies also on this year's list are: Google, Facebook, Microsoft, IBM, Amazon and Zoom Video Communications, among others.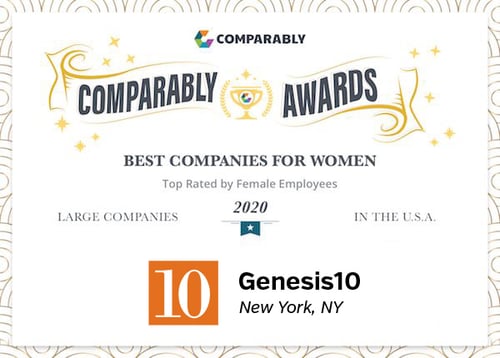 "The Best Companies for Women understand the importance of providing an inclusive culture for all," said Jason Nazar, CEO of Comparably. "Female employees at Genesis10 commend the company's diverse and collaborative environment, cementing its spot among the Top 50 best workplaces for women."
"On behalf of the leadership team, we are honored to receive recognition as a Best Company for Women," said Harley Lippman, Founder and CEO of Genesis10. "Since our inception in 1999, we have always nurtured a culture in which women have equal opportunity to reach their potential, and we are truly grateful for the contributions women make to the workplace, especially in these challenging times when they have assumed additional responsibility for childcare and at-home learning."
In 2020, Genesis10 was recognized as a Best Company for Work-Life Balance by Business Insider and as a Best Company for Professional Development by USA today.
Note: Rankings were determined based on a combination of questions in 20 core culture metrics, from compensation and leadership to work environment and professional development opportunities providing a comprehensive and accurate look at what it's really like to work at these companies if you are a woman in the workplace. The final data set was compiled from 10 million ratings across 60,000 U.S. companies large and small by Comparably.