This month, the KC Tech Council reports that the Kansas City Metro area has more than 4,200 open tech jobs. To learn more about the tech employment picture in the region, Leslie Collins, Staff Writer with the Kansas City Business Journal, interviewed Genesis10 CEO Harley Lippman. Her Kansas City Business Journal article follows.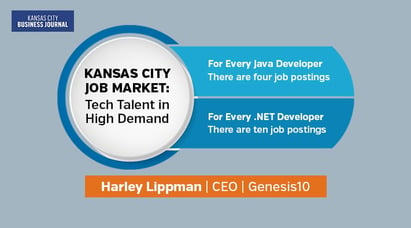 The search for tech talent is in high gear, said Harley Lippman, founder and CEO of New York-based tech staffing firm Genesis10, which has offices in Lenexa and Overland Park.
"It's stronger than this time last year," he said.
For every Java developer, there are four job postings, and for every .NET developer, there are 10 job postings in the Kansas City market, Lippman said. As of this month, the Kansas City region had more than 4,200 open tech jobs, KC Tech Council President Ryan Weber said during a previous interview.
Early on, however, the Covid-19 pandemic stunted tech job growth.
"There was no growth. We were getting wiped out," he said. "They were laying off people, furloughing people (and) ending contracting assignments. There was a lot of uncertainty, so there was a big pullback."
Hiring trends didn't start recovering until July and August. Now it's solid growth, thanks to pent-up demand and restarting projects that had been set aside. The business community also is more optimistic now, and Genesis10 clients are ramping up hiring to stay competitive and capture more market share as the economy recovers, he said.
In Kansas City, there's a "huge need" for tech talent.
"There's a shortage of good tech talent there," Lippman said.
Genesis10 is helping to fill the talent pipeline with its Kansas City delivery center, a site where Genesis10 employees can work on tech projects for clients and fulfill other tech needs.
It also launched the Dev10 training program in 2018, which helps individuals with college degrees transition to tech careers. It fills the gap for junior talent — one of the biggest requests from clients — and fills a need for more training programs. During the 2008 recession, tech training programs were "wiped out across the country" and never fully recovered, he said.
Genesis10 pays participants to complete the two to four months of training to fill roles such as software engineer, cloud engineer architect, Java developer and .NET developer. Then, they're hired as Genesis10 consultants and work on projects for the company's clients, who can get a feel for prospective employees before making an offer.
"We're chasing demand, so it's worked out very well," Lippman said of the program.
Genesis10 ranks No. 14 on the Kansas City Business Journal's Staffing Services Firms List, with 22 local employees providing placement services.
Leslie Collins
Staff Writer
Kansas City Business Journal