Staffing Industry Analysts (SIA) has named Angelia Brekke, Vice President and Managing Director at Genesis10 and President of Dev10, to its 2023 Global Power 150 – Women in Staffing list. SIA is the global advisor on staffing and workforce solutions.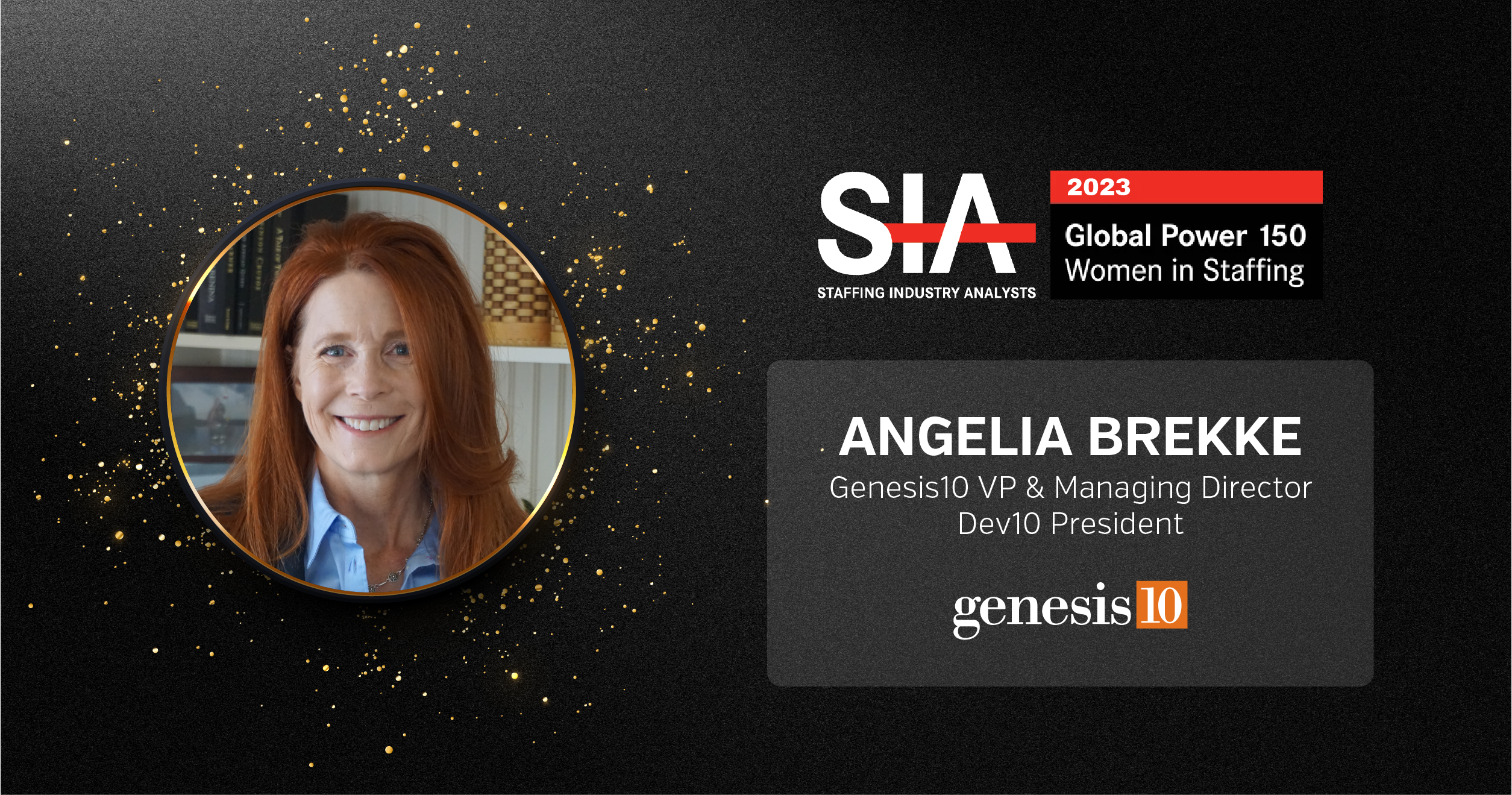 "On behalf of CEO Harley Lippman and the Genesis10 leadership team, I'd like to congratulate Angie for earning a spot on the SIA Global Power 150 – Women in Staffing list," said Glenn Klein, President and CFO of Genesis10. "Recognition on this prestigious list is a testament to her exceptional leadership, dedication, and the invaluable impact she has on the people she works with every day. Her contributions are instrumental in shaping not just Genesis10 and Dev10, but the broader staffing landscape. We are incredibly proud to have her as an integral part of our team."
Global Power 150 – Women in Staffing – What It Takes
To compile its list, SIA sought out remarkable female leaders whose talents, achievements and passion drive their success. The list, which features 100 women from the Americas and 50 international women, aims to honor those female leaders making a difference. Women leaders named to the Americas list are featured in the November/December issue of Staffing Industry Review magazine. All honorees will be recognized during SIA's Executive Forum North America March 25-28, 2024, at the Aria Resort in Las Vegas.
View Angelia Brekke's profile on the SIA Global Power 150—Women in Staffing list.
"The incredible impact of the 2023 Global Power 150 Women in Staffing is made even more remarkable given our current environment of post-pandemic shifts, economic concerns and geopolitical issues," said Ursula Williams, COO for SIA. "Meeting such dramatic change and challenges with innovation and growth is a true power move, and the powerhouse women on this list have made such moves in the workforce solutions ecosystem. A huge congratulations to this year's Global Power 150 Women in Staffing."
Joining Genesis10 in 2011, Brekke manages Genesis10's largest branch and is the cofounder of Dev10 which, celebrating the 5th anniversary of its founding, has helped launched careers of thousands of software engineers working at 65 companies.
Under Brekke's leadership, Genesis10's Minnesota office consistently places in the top five firms on the Minneapolis-St. Paul Business Journal Top IT Consulting Firms list. The Minnesota office also is a Star Tribune Top Workplace in Minnesota.
In 2022, Twin Cities Business magazine named Brekke a Notable Woman in Tech, and she appears on Minnesota Monthly's list of the 500 Most Powerful Business Leaders in Minnesota. She was profiled in the article, "A Pathway to a Different Kind of Life."
Earlier this year, Dev10 received a Campus Forward Award for excellence in early career hiring, and has received the Tekne award for Talent Creation by the Minnesota Technology Association (MNTech). Dev10 also was one of two finalists for the Blue Diamond Award for Tech Talent Innovation by the Charlotte Area Technology Collaborative.
The Global Power 150 Women in Staffing is sponsored this year by Bullhorn Inc.