It should come as no surprise that employers' search for new tech talent has reached a level not seen in nearly two years.
That's according to new analysis by CompTIA which finds that job postings for open IT positions surpassed 365,000 in May, the highest monthly total since September 2019. Software and application developers, IT support specialists, systems engineers and architects, IT project managers and systems analysts are among the positions in highest demand.
The unemployment rate for IT occupations was 2.4% in May, about half the national labor market rate of 5.5%.
The imbalance in demand for and supply of skilled tech talent has created a challenge for our clients, notes Valerie Quinata, Vice President, Strategic Talent Solutions at Genesis10, at the recent ClubVMSA EXTEND—A Workforce Optimization Event.

During a panel discussion, "Closing the Tech Talent Gap with Junior Workers," Quinata introduced attendees to Genesis10's Dev10 Talent Creation Program, which is taking on the challenge by using a non-traditional approach to fill the need for tech talent. Participating on the panel were Dev10 Associates Marisa Raeder and Jesse Williams, who shared their experience with the talent creation program with event attendees. Also participating were Jennifer Turnquist, Dev10 Client Director, and Tara Wyborny, Director, Emerging Talent Programs at Genesis10, who served as moderator of the discussion.
Non-Traditional Approach
To fill the need for tech talent, Dev10 recruits candidates who demonstrate technical aptitude and the dedication needed to succeed as a Software Developer. A computer science degree is not necessary.
Dev10 Associate Marisa Raeder has a background in psychology and sales. She was looking for new career opportunities when she learned about Dev10.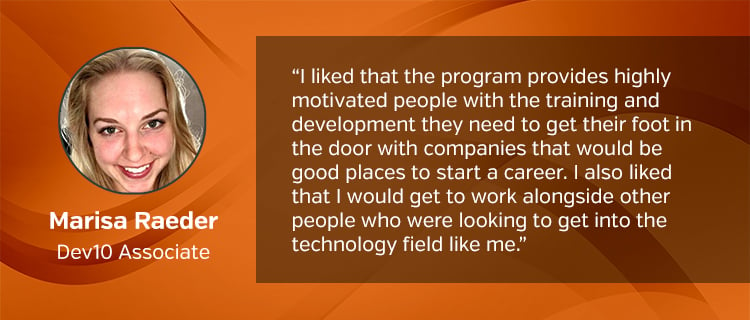 With a background in math, biology and machine learning, Dev10 Associate Jesse Williams has taught middle school, high school and some college. Like Raeder, he was looking for a career change when he learned about Dev10.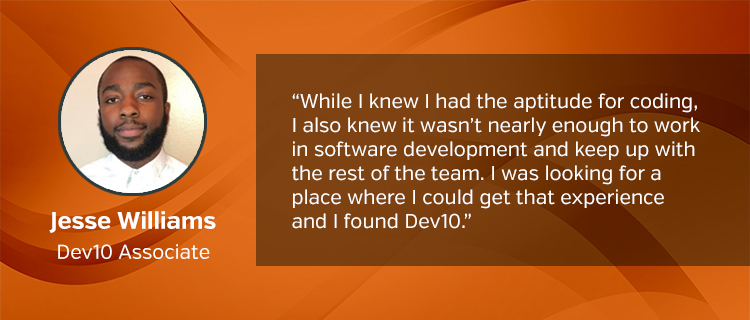 A Day In The Life
After a rigorous candidate evaluation process that includes a logic and aptitude test—just 5% those who apply are selected--candidates begin three months of immersive training in the technologies companies need most right now. "The training is not for the faint of heart," Williams said. "We had a very well qualified and competent teacher who taught us coding language from database to user interface and we did it in just 11 weeks. A typical day started at 9 am with instruction, and then for me, I did homework from 5 pm to 10 pm."
Raeder recalls the Agile-style stand ups with her colleagues and coding challenges and, like Williams, spending hours each evening on homework. On Fridays, there were assessments and projects to do on weekends. "Dev10 is definitely for someone who wants to work really hard and has the passion to make the career work."
Williams and Raeder agree that Dev10 not only trained them in the technologies they need to succeed as junior software developers at Fortune 500 companies (i.e., Java, SQL, JavaScript, AWS, Jira), the program also taught them skills that will be invaluable throughout their careers such as the ability to collaborate with teammates. "Our instructor reminded us that we are going to learn a lot more from our peers and our team than from a book or individual," Williams said. "None of us is as smart as all of us."
What They Are Doing Now
Today, working for one of Genesis10's financial services clients, Raeder is on a team that is building a new factory to be able to process every touch point of communication that goes out to the company's clients. "We are upgrading a standing system to one that is more modern. There are teams that are taking apart chunks of that larger assignment. I am working on Java, SQL and AWS technologies, onboarding different pieces of that factory."
Working for the same client, Williams is on a team that maintains and updates the financial planning services section of the company's website. "That's a full-stack project from back end to front end, maintenance of the database which is in SQL, maintenance of the API which is in Java and also maintenance of the user interface which is in JavaScript," he said. "Now we are beginning to transition some parts of the project over to AWS."
New For 2022
Dev10 has always taken a very focused, local approach to the hire/train/deploy model, based on the understanding that clients wanted to hire people from the local community who wanted to live and work in the local community.
The program's current geographic footprint includes Austin, Charlotte, Chicago, Cleveland, Columbus, Dallas, Milwaukee, Phoenix, Toronto, Minneapolis-St. Paul, New York and Washington, D.C. "And with many clients open to fully remote candidates, we have a team in Minnesota that is recruiting candidates who will be fully remote and will stay remote," Dev10 Client Director Jennifer Turnquist told attendees at the ClubVMSA event. "We find that the talent in the Midwest is impressive and often more cost effective than on the coast."
Dev10 Value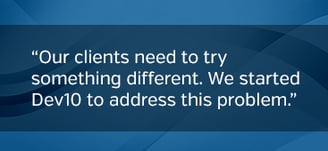 It is not unusual for the Dev10 team to hear from clients that have senior-level roles that are going unfilled after six or more months and that they need to get the work done. "Our clients need to try something different," Turnquist said. "We started Dev10 to address this problem."
At the same time, clients have other needs that Dev10 addresses such as diversity goals. "Our clients love the diversity of thought that our Dev10 Associates bring to their organizations," Turnquist said. "Like Marisa and Jesse, our Dev10 Associates come from different educational backgrounds. Another of our Dev10 Associates was pursuing a career in medicine only because his parents wanted him to be a doctor when he learned about Dev10. Now, he's in the program and is wildly successful as a developer. People like to be around that. It feels good.

In 2020, the Minnesota Technology Association presented Dev10 with a Tekne Award in the Tech Talent Solution Provider category.