We're excited to announce that Genesis10 has placed on not one, but two, key staffing lists in the Austin Business Journal (ABJ). The two lists are: Tech Recruitment Firms and Temporary Staffing Firms in the Austin Area.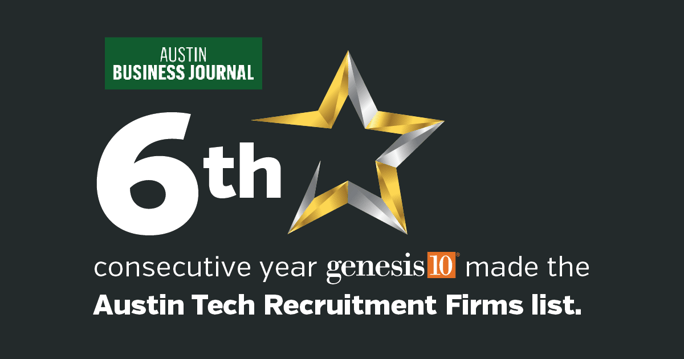 Genesis10 opened its Austin office in May 2017 and has secured a spot on both these lists every year since.
Colleen McIntyre, Managing Director—Central Texas, leads Genesis10's team in Austin. McIntyre, who has more than 25 years of leadership and recruiting experience, is one of 10 people who joined Harley Lippman to found Genesis10 in 1999.
"Our inclusion on these two lists is a testament to Genesis10's dedication and the strong partnerships we've built in the Austin community," McIntyre said. "We're proud of our consistent presence on these lists since our office opened in 2017. At Genesis10, we are committed to delivering top-notch talent and innovative staffing solutions to our clients in the Austin business community."
Details on the Austin Staffing Lists
The 2023 list of tech recruiters is for firms that work with tech companies and IT departments to fill tech-specific positions, such as software engineers, database administrators and developers. The list is ranked by permanent and contract tech placements made during 2022. According to the ABJ, local tech recruiters at all area firms on the list filled 1,554 positions last year.
The temp staffing firms list includes a range of staffing specialties from traditional clerical and administrative help to skilled trades and professionals in accounting, health care, security, and technology. It is ranked by hours billed in 2022. All local offices in Austin on the list billed 9.5 million hours last year.
Genesis10's Austin office is located at 9600 Great Hills Trail, Suite 150W, Austin, TX 78759. The phone number is 512-470-8859.