The Austin Business Journal has named Genesis10 a Top Austin-Area High-Tech Recruiting Firm and a Top Austin-Area Contingency Search Firm.
The publication ranks firms for each of the lists by the number of placements made in 2017 by the Austin office. Genesis10's Austin office opened in May 2017.
The team is led by Colleen McIntyre, Managing Director—Central Texas, who has more than 25 years of leadership and recruiting experience and is one of the original 10 founders of Genesis10, manages the team in Austin, which also includes Stephen Biles, Director, Business Development—Central Texas.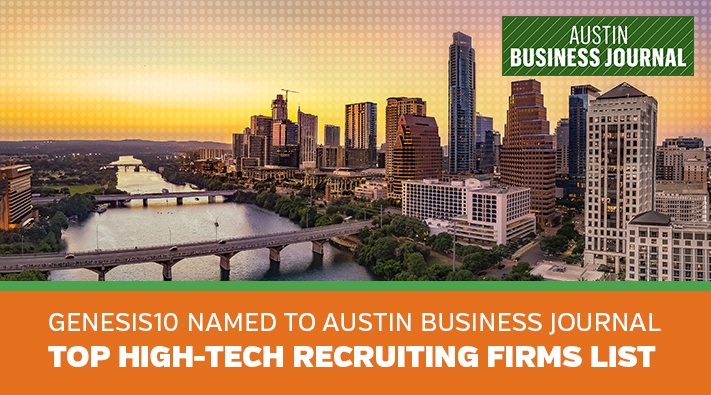 "As a new firm to the Austin market, we are excited to make two important industry rankings published by the Austin Business Journal," said McIntyre. "It's testament to the hard work of the entire Genesis10 team that we made the lists within the first year of supporting Austin. Understanding our clients' challenges in such a tight tech talent market and being able to provide them with the services that they need to solve their workforce challenges were two key factors. We look forward to many years of continued success in Austin."
Genesis10 is a professional technology services firm that provides staffing, workforce optimization and domestic outsourcing solutions onsite, onshore or in a hybrid delivery model.
Genesis10 has 19 offices and six delivery centers across the U.S. The Austin office is located at 9600 Great Hills Trail, Suite 150W, Austin, Texas 78759. The phone number is 512-470-8859.
Also see the article Genesis10 Opens Office in Austin.