As Genesis10 marks its fifth year in Austin, the local team also is celebrating two recognitions they've received from the Austin Business Journal: Austin-Area Tech Recruitment Firms list and Temporary Staffing Firms in the Austin Area list.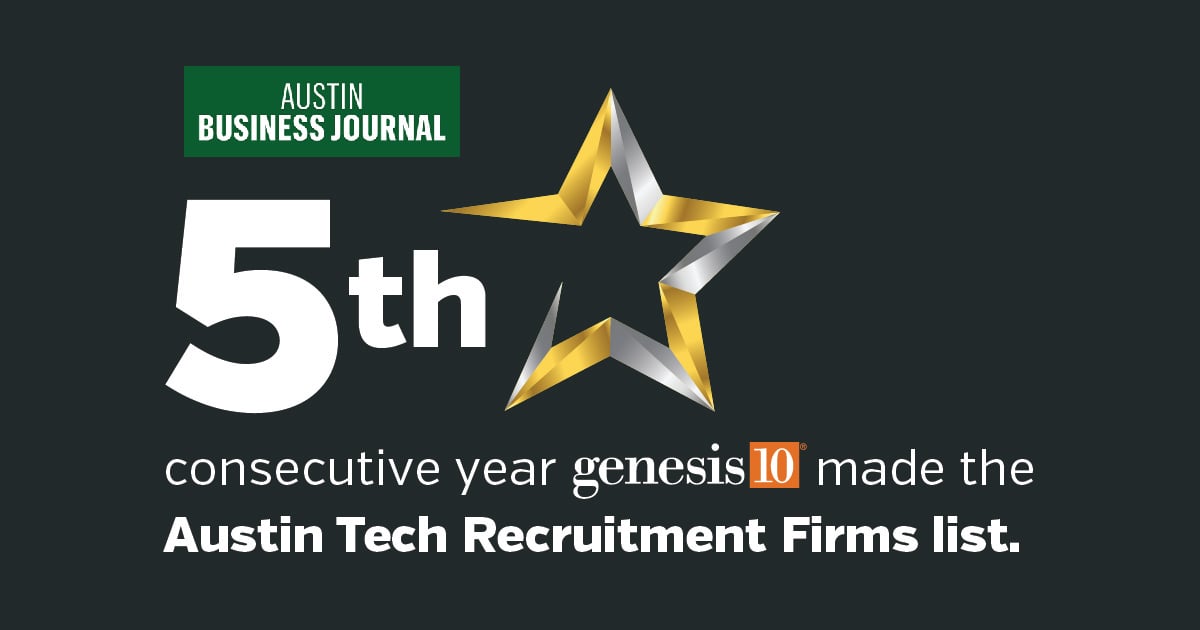 It is the fifth consecutive year that Genesis10 made the Austin Tech Recruitment Firms list. Genesis10's Austin office opened in May 2017.
Colleen McIntyre, Managing Director—Central Texas, leads Genesis10's team in Austin. McIntyre, who has more than 25 years of leadership and recruiting experience, is one of the original 10 founders of Genesis10.
"We are excited to be on the Austin Business Journal's list of technology recruiting firms for the fifth year running," McIntyre said. "It is especially meaningful as we celebrate our fifth year serving the Austin Metro Area. Our local team works tirelessly to support our clients and consultants in this competitive market. We look forward to success in Austin for years to come."
The 2022 list of tech recruiters is for firms that work with tech companies and IT departments to fill tech-specific positions, such as software engineers, database administrators and developers. The list is ranked by permanent and contract tech placements made during 2021, with local tech recruiters at all area firms on the list filling 2,014 IT positions last year. Of the 2021 placements made, 805 were for jobs in the Austin area.
The temp staffing firms list includes a range of staffing specialties from traditional clerical and administrative help to skilled trades and professionals in accounting, health care, security, and technology. It is ranked by hours billed in 2021. All local offices in Austin on the list billed 7.96 million hours last year.
Genesis10's Austin office is located at 9600 Great Hills Trail, Suite 150W, Austin, TX 78759. The phone number is 512-470-8859.