The Dallas Business Journal has named Genesis10 to its North Texas Staffing Agencies list for 2021. The publication ranks the list by hours billed in 2020.
Genesis10's North Texas office is located at 3010 Gaylord Parkway, Suite 120, Frisco, TX 75034. Managing Director Wayne Sueltz leads the Genesis10 team there.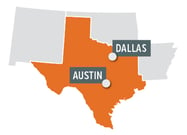 In 2020, the Dallas Morning News named Genesis10 a Top Workplace in the Dallas/Fort Worth metro area.
Genesis10 also has a Delivery Center located in Dallas and another staffing office located in Austin.