For the fifth consecutive year, Genesis10 has received an award for Work-Life Balance. Other companies on this year's list include HubSpot, Workday, InstaCart, Squarespace, ADP and Top Golf.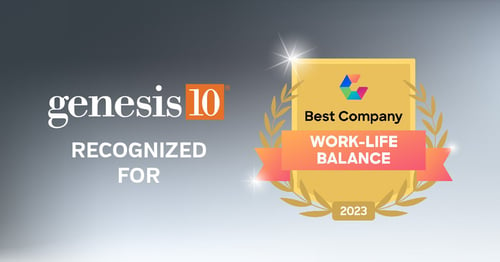 The award is presented annually to recognize companies that provide fair pay, perks, benefits and work environment, as determined by employees. The final data set was compiled from 15 million ratings across 70,000 U.S. companies large and small by Comparably.
"We are truly honored and humbled to be recognized by Comparably for our commitment to providing a great work-life balance for our employees," said Glenn Klein, president of Genesis10. "Our team has always been at the heart of our success, and their well-being and happiness are paramount to us. This recognition is a testament to the dedication of our incredible staff and our ongoing efforts to create an environment where our employees can thrive both personally and professionally."
Harley Lippman, CEO and founder of Genesis10, was also named a Best CEO for Diversity and a Best CEO for Women. Genesis10 was also named to the SIA's list of Diversity-Owned Staffing Firms.
---
Comparably awards are based on sentiment feedback provided by current employees who anonymously rated their employers on Comparably.com during a 12-month period (May 15, 2022 through May 15, 2023). Employees had the opportunity to answer on specific workplace topics about their CEOs, leadership (executive teams and direct managers), and professional development opportunities. Each answer is given a numerical score and compared to companies of similar size.