With the ADP National Employment Report showing the private sector gaining 27,000 jobs in May, Mark Zandi, Chief Economist at Moody's Analytics, notes that "labor shortages are impeding job growth, particularly at small companies, and layoffs at brick-and-mortar retailers are hurting."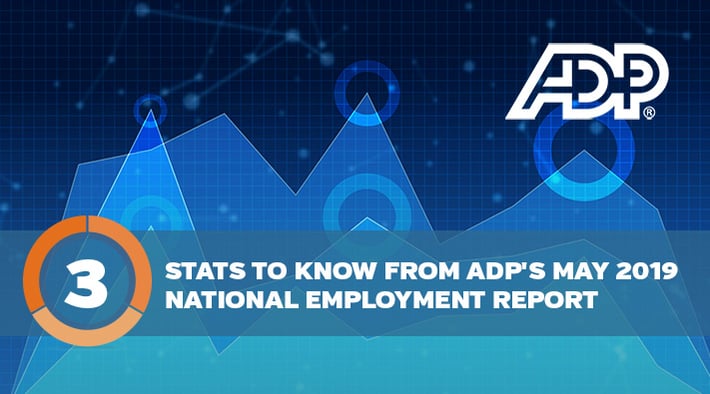 The ADP National Employment Report® is published monthly by the ADP Research Institute® in close collaboration with Moody's Analytics and its experienced team of labor market researchers. The ADP National Employment Report provides a monthly snapshot of U.S. nonfarm private sector employment based on actual transactional payroll data.
The report breaks down Total U.S. Nonfarm Private Employment by Sector and Company Size. All are worth reviewing each month (and tracking in time series) to get a complete picture of what's happening and how job market conditions are trending in your business sector. Here are the three stats from the most recent report that you need to know:
1. Private Sector Employment Growth Slowing
U.S. nonfarm private businesses added 27,000 jobs in May 2019, marking the smallest gain since the economic expansion began, said Ahu Yildirmaz, Vice President and Co-Head of the ADP Research Institute. "Large companies continue to remain strong as they are better equipped to compete for labor in a tight market."
Employers everywhere are struggling with a tight labor market, reports CIO Journal. In a recent article, Genesis10 CEO Harley Lippman provides insight and analysis into new Labor Department jobs data that show the IT unemployment rate hitting a 20-year low. "With job postings outpacing the supply of IT talent, employers face prolonged gaps in the hiring process," he said, offering suggestions for recruiters facing these challenges.
2. Services Continue to Add Jobs
The services sector added 71,000 jobs in May, with growth coming from financial, professional and business, education and health, leisure and hospitality sectors. Of these, education and health showed the biggest gain, 33,000 jobs. The other services sector lost 9,000 jobs and information shed 3,000. The trade, transportation and utilities sector were flat for the month.
The goods-producing side saw a decline of 43,000 jobs, with most of those coming from the construction sector, at 36,000. Manufacturing and natural resources and mining also had losses.
Franchise employment recorded a loss, in May as well—4,800 jobs.
3. Large Companies Drove the Most Growth
Looking at company size, large and mid-size businesses continue to drive the most growth. Businesses with more than 500 employees added 68,000 new positions in May, while mid-size companies with 50-499 workers saw a gain of 11,000. Small businesses with 1-49 employees are feeling pain—they lost 52,000 jobs, with most losses coming at the expense of the smallest companies.
According to a recent article by CNBC, a tight labor market and ultra-low unemployment has companies more concerned about retention citing extending 3% compensation increases and/or improving benefits as one of many tactics employed to retain talent. A recent PayScale report indicates that 69% plan to increase base pay up to 3%.
---
Also read Ami's blog: A Major Tech Hub, Charlotte Sees Rising Demand for Tech Talent.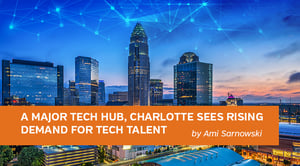 Honeywell, a Fortune 100 commercial and consumer products and engineering multi-national conglomerate, will relocate its global headquarters to Charlotte, North Carolina, in Mecklenberg County, creating 750 new jobs by the end of 2024. ...read more
---